Huddersfield Town's Lee Clark rejects Leicester rumours
Last updated on .From the section Football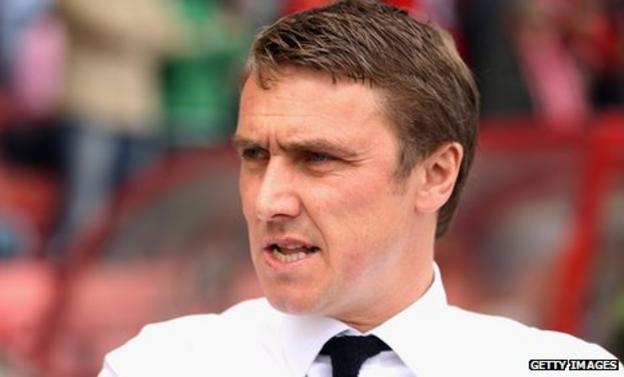 Huddersfield Town manager Lee Clark has moved to end continuous rumours that he is joining Leicester City.
Clark has been repeatedly linked with the vacant role at the King Power Stadium since Sven-Goran Eriksson left the Foxes last month.
But on Thursday he told Huddersfield's website: "I want to put an end to this speculation - I am not interested in the Leicester vacancy.
"All I'm interested in is moving forward with the job at Huddersfield."
The former Newcastle midfielder added: "My sole focus is on taking Huddersfield Town forward and achieving the goals that we are all so desperate to."
Despite saying he was not applying for the Leicester job at the end of last month, Clark's name continued to be bandied about as a possible successor to Eriksson.
Clark's latest rebuttal comes in the wake of reports that he was going to tell his players on Thursday that he was leaving to join the Championship side.
"I have tried not to comment on it up until this point as that is all it has been - speculation; I didn't want to give any substance to it," he added.
"For me, it has been a case of 'business as usual' this week.
"However, the speculation hasn't gone away and I apologise to anyone if not commenting on this earlier has caused any issues for the supporters. Regardless, now is the time that I want to put these rumours to an end.
"Obviously on a personal level it is satisfying to be linked to jobs at clubs in a higher division, but that is all I take from these links.
"Players get linked to other clubs when they are doing well and you have to take it as a compliment in that sense.
"I believe these rumours are a compliment to Huddersfield Town too and we should take it as a positive that our success is catching the attention of people in the game outside of our area.
"However, I want to reiterate that I am 100% committed to the owner, the fans and the players at Huddersfield Town and I am totally focussed on continuing this magnificent start to the season and getting this club promoted."