Steve Lomas choice is Geoff Brown's last act in St Johnstone chair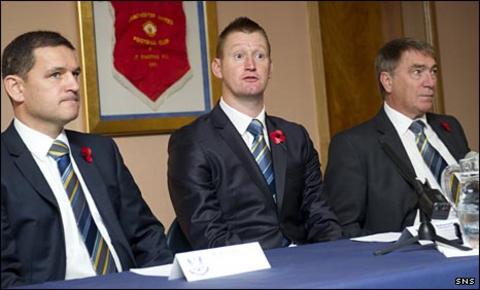 Geoff Brown took the media by surprise by announcing that the appointment of Steve Lomas as manager would be his last act as St Johnstone's chairman.
At 25 years, the housebuilder was the longest-serving chairman in the Scottish Premier League.
"I have now decided that, as of today, I will stand down as chairman. My son Steve will be my successor," he said of his decision.
Brown took charge of Saints when they were deep in financial trouble in 1986.
A rights issue, which raised £150,000, solved the club's immediate financial problems at a time when they were near the bottom of the Scottish Football League.
The Perth club have since since risen from second bottom of the Second Division and new manager Lomas takes over with the present side sitting fourth in Scotland's top flight.
"I have stated through this process that I would consult the board and make sure the board was happy with the appointment," said Brown.
"The manager will have a one-to-one relationship with Steve.
"I have never been a believer in committees and boards.
"I believe in one-to-one relationships and I believe St Johnstone have done well with that in the past."
Brown, who is also a race horse owner, founded GS Brown Construction in 1970 and remains chairman of the family business.