Walter Smith on Sir Alex Ferguson's 25 years at Man Utd
By Phil McNulty
Chief football writer
Last updated on .From the section Football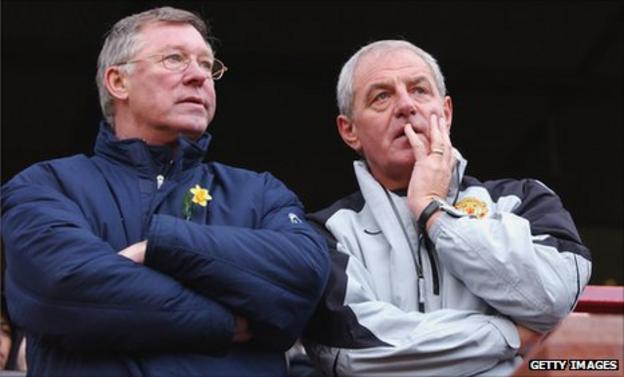 If Walter Smith was compiling the guest list for his ideal dinner party, one of the first invitations would be winging its way to Old Trafford for Sir Alex Ferguson.
Former Rangers, Everton and Scotland manager Smith has forged a strong personal and professional bond with Ferguson since they first met on a Scottish FA coaching course at Largs, Ayrshire in the mid-1970s.
Since then he has worked with Ferguson for Scotland at the 1986 World Cup in Mexico, been a Premier League opponent at Everton and even enjoyed a brief spell working as his assistant at Old Trafford at the end of the 2003-04 season.
It puts Smith in the perfect position to give an insight into Ferguson the man and Ferguson the manager, as he celebrates 25 years in charge at Old Trafford.
Smith told BBC Sport: "Obviously there is a public perception of some people that is sometimes exaggerated but Alex is a great friend and great company. People are often asked who they would invite to their ideal dinner party and Alex would be on my list.
"He is very well read and a really interesting character with a wide range of subjects that he can talk about with great knowledge, which makes him so good to be around.
"He loves his football first and foremost but is a well-rounded character when you take him away from the game."
Smith shares Ferguson's Glaswegian roots and much of the United boss' approach to life and football management was shaped by his working-class upbringing and his early days in the city's shipyards.
Ferguson led an apprentices' strike in 1961 and Smith added: "Obviously people talk about Alex's working-class background and that will have an effect on his attitude to life, as happens with a lot of people.
"It was typical of Alex's sense of wanting to see things done right and being prepared to lead when he was involved with the apprentices.
"He is one of the fairest people you could come across. He is someone who shows great loyalty to his players and friends. If you breach that loyalty there will be consequences but I think that is common with most people if that happens."
Ferguson and Smith have many happy shared memories, dating back to that first meeting in Largs.
Smith recalls: "He was very friendly with Jim McLean, who I was the assistant to at Dundee United. Archie Knox, who was later my assistant at Rangers and Everton, was working with Alex at Aberdeen, so I got to know him then as well.
"We used to meet up for five-a-sides between the backroom staffs of Dundee United and Aberdeen and I'm pretty sure we were unbeaten through all that time as well. I'm sure Alex remembers that.
"He came to prominence as a manager at St Mirren, where he did a really good job. He was getting a good reputation there getting a lot of younger boys together. Of course he then moved on to Pittodrie (Aberdeen) where he was so successful, not just winning the league in Scotland but the European Cup Winners' Cup as well.
"I got to know him well over those years and you could see he was someone who knew what he wanted and was going places. I don't think there was any doubt you could see his qualities as a manager and a person.
"We worked together for the first time at the World Cup in Mexico (in 1986). I had worked with the Scotland youth team and used to travel with the national side when Alex was assistant to Jock Stein, so our relationship built up further then.
"I then took charge of the Under-21s and Jock Stein asked if I would be able to come out and assist him and Alex if Scotland qualified for Mexico - what an education and opportunity that would have been for any aspiring coach or manager to work with them.
"Sadly, as we know, circumstances changed when Mr Stein passed away but I still went and assisted Alex in Mexico. It was fantastic and I learned a lot from working with him and watching how he worked."
Smith enjoyed a brief reunion with Ferguson at Old Trafford in 2004, a partnership that brought the success of an FA Cup final win against Millwall in Cardiff.
"Carlos Queiroz had left to join Real Madrid," Smith remembers. "But Alex knew there was a likelihood he was coming back so he asked me to help Mike Phelan for a spell and it was great. I thoroughly enjoyed working at such a fantastic club and seeing Alex and the foundations he had built for that club only cemented my admiration for him."