Lee Bradbury excited by new Bournemouth investor
Last updated on .From the section Football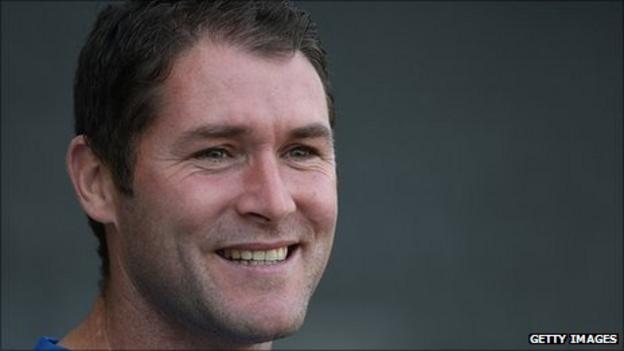 Bournemouth manager Lee Bradbury says the new investment at the League One club is a "dream" for him.
Russian businessman Maxim Demin is expected to be named as the club's new co-owner in the next few days having bought a 50% stake in the Cherries.
"I've sat down and had a few meetings and he seems like a really nice guy," Bradbury told BBC Radio Solent.
"He has got a good passion for the game and wants to get involved. It is great and exciting times for the club."
In recent years Bournemouth have been forced to sell their best players to help keep the club out of debt, but the new investor's arrival could signal a new era for the League One side.
Earlier in the week Cherries chairman and co-owner Eddie Mitchell revealed the club were attempting to buy back their Dean Court stadium, which they sold in a sale-and-leaseback deal to London property company Structadene.
Bournemouth have also recently submitted plans for two full-sized and two five-a-side pitches costing about £400,000 on currently unused land next to Dean Court in Kings Park.
The new pitches are part of the Cherries' ambitious plans for the stadium, which include a £6m stand, new 5,000-seater enclosure at the South End, hotel, spa complex and offices.
Bradbury says he is yet to talk to the new investor about transfer funds.
Mitchell has already pledged to make money available and revealed the new co-owner wants to secure Championship football.
"He seems like a guy who is ready and willing to put things on the front foot," added Bradbury.
"It is a dream for me to have someone who is willing to push things forward at the club alongside Eddie as he has pushed things forward here on his own.
"To have two people who are hungry for success alongside myself and everyone at the club is great
"I think we are all pulling in the right direction now and it is really good times."