Quitting Sunderland was never on my mind - Steve Bruce
By Damian Johnson
Football Focus reporter
Last updated on .From the section Football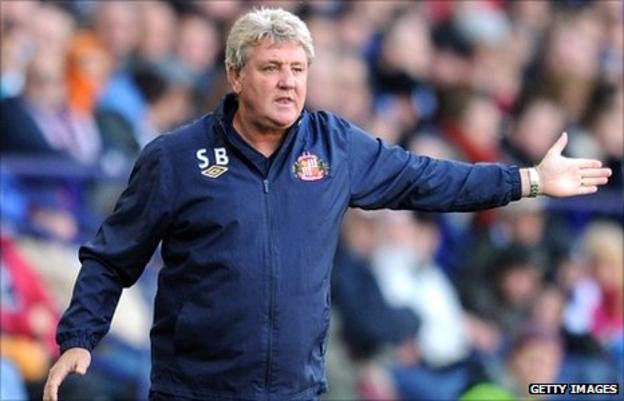 Sunderland boss Steve Bruce insists he has not considered resigning despite "brutal" pressure following his team's poor start to the season.
Bruce hopes his side have begun to find form after a 2-0 victory at Bolton and then coming from behind to draw 2-2 against Aston Villa.
Sunderland were fourth from bottom with just one win in eight before the trip to the Reebok Stadium a fortnight ago.
It was their worst start since the 2005-2006 season when they were relegated and some fans were calling for Bruce's dismissal.
Bruce was not helped by the fact they lost the opening home game against their north east rivals Newcastle and the former Manchester United defender told Football Focus: "All of a sudden you're under pressure even though the season before we finished 10th, which I think is our third highest finish in 50-odd years. That baffled me a little bit."
So just how bad did things get during that period for the former Manchester United captain? "There's no question about it, it was brutal at times," he said. "I think being involved in management for 10 years helped me. If Arsene Wenger can come under pressure, then who am I to complain about it?"
The idea of walking away never entered Bruce's head, however. "No, not at all," he reaffirmed. "I've never ever thought that. It's OK in management when everything is going along quite nicely. When it's not you have to dig deep and try not to let it affect you."
The Black Cats' manager refuses to blame changes in the running of the club for Sunderland's bad start to the campaign. Owner Ellis Short has taken over the reins as chairman, replacing Niall Quinn who has a new role developing the club's international profile.
"I am still in charge of the training ground," said Bruce. "I am in charge of the day-to-day running of the players. The most important thing of trying to get a result on a Saturday is the preparation from week to week."
Bruce takes his improving Sunderland to his former club Manchester United on Saturday on the occasion of Sir Alex Ferguson's 25th anniversary in charge.
He will share a drink with his old mentor and jokes: "He always has the best stuff. After 25 years he deserves his glass of red and I am sure most Manchester United fans will drink to that."