Hearts & PFA delay invoking SPL action on unpaid wages
Last updated on .From the section Football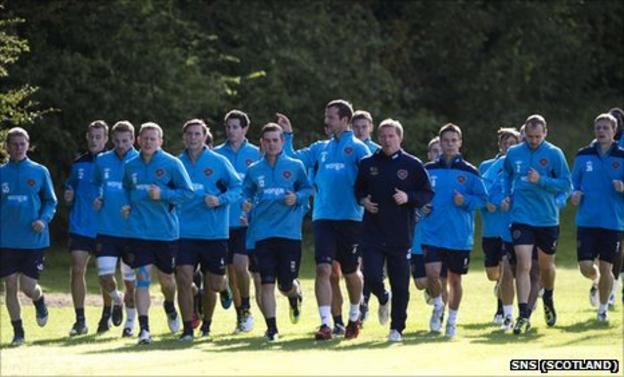 Unpaid Hearts players have decided to delay making a formal complaint to the Scottish Premier League over wages.
But the players have postponed that action after a meeting with manager Paulo Sergio, who promised the players they would be paid.
PFA Scotland say the players "trust their manager's word".
A statement from the union read: "PFA Scotland has been advising its members at Hearts in recent weeks with regard to the continued non payment of their salaries.
"Advice included the option of involving the SPL due to the breach of contract and the possibility of invoking FIFA Article 14 for breach of contract with just cause.
"At a meeting today with Paulo Sergio the players have agreed to postpone their complaint to the SPL in the first instance.
"This is due to the fact that Paulo, on behalf of the club, promised the players that they will be paid. Although no date was specified the players trust their manager's word and as a gesture of good faith the players agreed to postpone their complaint."
Fraser Wishart, PFA Scotland's chief executive, added: "Our members have no wish to resort to legal action; they simply want paid.
"They have shown a great deal of patience and professionalism throughout. If however the salaries are not forthcoming they reserve the right to instruct PFA Scotland to involve the SPL and take any other action that is appropriate.
"I have been speaking to some of the world's top sports lawyers at the FIFPro Congress and our members are privileged to have this expert knowledge to hand."
BBC Scotland understands Hearts have told selected high earners to find new clubs following a meeting with board members.
The Edinburgh club warded off a winding-up order by paying a £500,000 tax bill to HM Revenue and Customs.