Guernsey's Vale Rec make Le Riche Cup history
Last updated on .From the section Football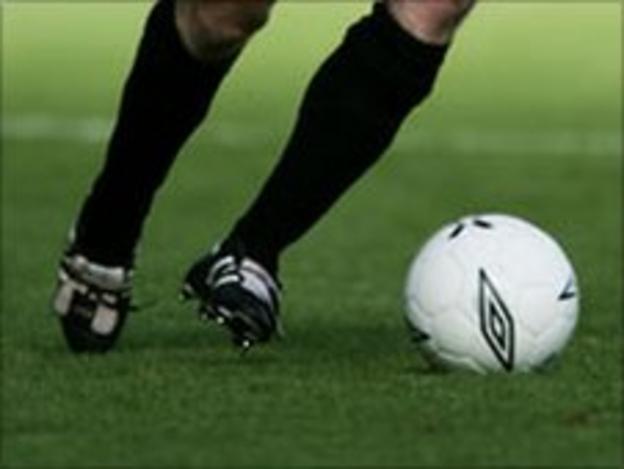 History is set to be made in the Le Riche Cup on Saturday with the first Guernsey side taking part in Jersey's showpiece knockout competition.
Vale Rec meet Portuguese Club at Les Quennevais in the ground-breaking tie.
The Guernsey side have played in the Somerset Senior Cup for the past few seasons but could not afford to continue to travel to the west country.
"We applied to the JFA and they kindly accepted us into the Le Riche Cup," said Vale boss Martin Gaudion.
"This year we still wanted to get the players to test themselves in a different competition."
And, as Gaudion explained to BBC Guernsey, they are excited to be doing something new.
"It's a big cup competition for them and very important, and as a club we're very honoured that Jersey should accept us into their cup competition and I know our players are thoroughly looking forward to it," he said.
"We haven't done it to make history, we've done it to try and offer our players something different."
Vale will be forced to travel to Jersey for all their matches, even if they are drawn at home.
Elsewhere, there could be a number of upsets, with struggling champions St Paul's hosting high-flying Championship side St Brelade and Premiership First Tower taking on previous Championship leaders Beeches.
St John, who got their only win of the season in the preliminary round against top-flight Trinity, may struggle to repeat their giant-killing feat against Premiership leaders Jersey Scottish.
There are two all-Premiership matches, with Jersey Wanderers hosting bottom side Rozel Rovers while St Ouen will hope for a repeat of last week's 6-0 win over St Peter when the two sides meet at St Ouen.
Grouville will be looking to win at lower-league Magpies while one Championship side is guaranteed a place in the last eight as St Martin/SCF and Sporting Academics face one another at St Martin.