Kevin Prince-Boateng retirement shocks Ghana FA boss

By Ibrahim Sannie
BBC Sport
Last updated on .From the section Football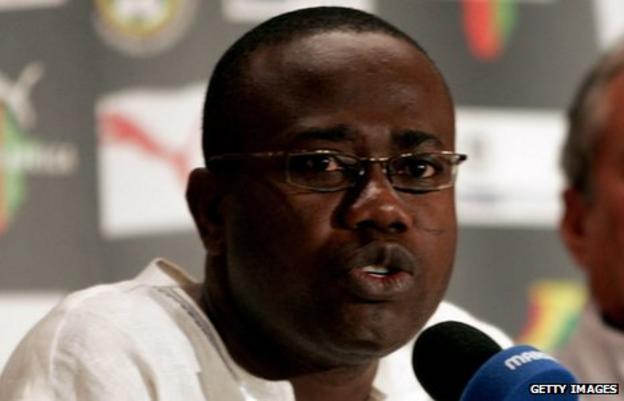 The Ghana Football Association (GFA) president says Kevin Prince-Boateng's decision to retire from the Black Stars is a 'devastating blow' to the country.
Kwesi Nyantakyi says the midfielder's decision to quit damages their hopes of winning the Nations Cup.
The GFA boss says he is shocked by the AC Milan player's move.
"I am very, very surprised because I least expected something like that to happen especially at a time very close to the Nations Cup," Nyantakyi said.
"This comes at the time we were banking on the availability of all our key players, including Kevin, so this news came as a thunderbolt. It was not taken lightly at all. It really shook all of us to the core.
"His reasons are basically health related. He said the high level of games involving the national team and the club side were having a telling effect on his health.
"In view of that, he said he had been put on a special training regiment which requires that he stays in Italy for a long time and go through his recovery as much as possible which led to the decision."
Despite Boateng's decision to retire, Nyantakyi says no player in the Black Stars squad is irreplaceable as the team has been responsible for the recent successes of the 2010 World Cup quarter-finalists.
"Kevin Prince-Boateng is a key player and an integral part of a squad we expected to present at the 2012 Africa Cup of Nations," Nyantakyi said.
"However, it must be understood from the outset that the strength of the team and that the strength of the Black Stars is in the team and not the individual players.
"So if one player if for good or bad reasons has been unable to be part of the team we have to accept it and move ahead. We cannot throw our arms in the air in despair and think that all is lost.
"It may be an opportunity for another player to get the chance and showcase his talent and become an instant hero."
The 24-year-old, an ex-Germany U19 player, switched nationality last year to represent the Black Stars.
The AC Milan midfielder, who played for Ghana for 18 months won nine Ghana caps and scored one goal - in the 2-1 win over the United States at the second round of the World Cup in South Africa last year.
The midfielder has been in good form for his Italian club this season, scoring a hat-trick against Lecce in a league match last month.
But the decision does not leave Ghana short of midfield options, as youngsters Emmanuel Agyemang Badu, Kwadwo Asamoah, Andre Ayew as well as Michael Essien and Sulley Muntari are still available for the national team.