Cardiff boss Malky Mackay favours long-term building approach
Last updated on .From the section Football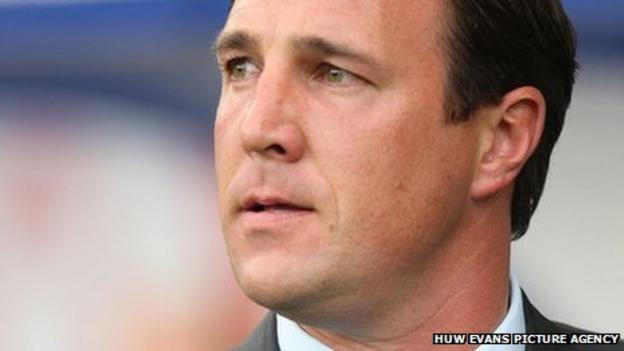 Manager Malky Mackay says he is building Cardiff City for the long term as they prepare for Saturday's top-five Championship clash with Crystal Palace.
Twelve players, including seven loan signings, departed in the summer and Mackay has had to start over.
"My experiences of Cardiff were playing against a good, experienced team last year," said former Watford boss Mackay.
"Obviously at the time there was a lot of loans into the club... but at the moment right now, I've got a group here where we've got a lot of players who have signed for Cardiff City, who are our players and are our players going forward.
"There is value in the team but there's also players who are moving here, who are living here and are putting everything into us being better and us doing well."
Cardiff slipped out of the automatic promotion places at the crunch end of last season and then lost to Reading in the play-offs.
The Bluebirds currently sit fifth in the Championship table, a point behind Palace in fourth, and again look capable of challenging for the play-offs.
Mackay's squad is smaller than many of his rivals in the league and enough injuries at the same time could yet stifle Cardiff's early season promise.
For Saturday's clash at the Cardiff City Stadium, they have doubts over Wales striker Rob Earnshaw (hamstring) and Scotland goalkeeper David Marshal (illness).
But while not ruling out loan signings should the need arise, or the right individual become available, Mackay is reluctant to go too far down that route.
"I feel that it's tweaks that are needed... our division right now is very, very expensive," Mackay added.
"You look at a couple of the clubs and some of the loan deals that have happened and it's incredible.
"You go back to the one last year where Yakubu went to Leicester [from Everton] and I know the figures that were involved in that and it's mind-blowing, and that didn't work.
"Leicester for one reason or another they went for it that way and it didn't work.
"It's about players, it's about guys that can integrate into teams, it's about team-work, it's about people coming into your team and adapting.
"If you can get someone that you target and you think is going to add to the group, but it's about building.
"What I'm trying to do is build here and build people that are going to be here and make Cardiff a better club over the next couple of years and make the club stronger.
"And have youth coming through; there is a production line coming through that no matter what first-team players you've got, you've got this underbelly of youngsters as well.
"We're here to win games... not only focus on that but have... young players coming through that end up taking their place in a natural progression as opposed to forcing a 17-year-old into a team because he has to play every week.
"Adapt and blend that player into the first-team environment so that when he does go in, he stays in.
"[That is] something I'm well used to in terms of my previous club [Watford] where we probably had to throw them in far too early, knowing that in a couple of years' time it'll have benefits but at that point you get huge peaks and troughs.
"If you've got that as well as a nucleus of experienced or good Championship players, then you've got a proper club and that's certainly what I'm trying to do here."