Dean Saunders backs Wrexham for promotion under Andy Morrell
Last updated on .From the section Football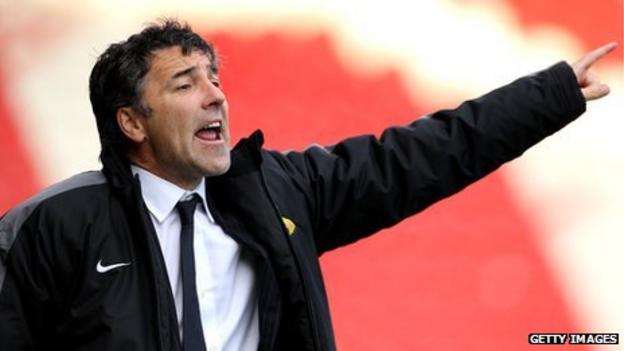 Former Wrexham manager Dean Saunders believes the rebuilding work he started at the club can end in promotion this season under Andy Morrell's guidance.
Wrexham are top of the Conference and Saunders says Morrell has all the necessary attributes to flourish.
"Andy is the perfect candidate for the job," Saunders told BBC Wales Sport.
"I recommended him for the job and hopefully now he can carry on what we'd been doing and take the team into the next league."
Since taking the reins in late September as player-manager, Morrell has led Wrexham to 20 points from a possible 27 in the league, as well as an FA Cup win over York City.
The 37-year-old has been part of the Racecourse set-up since June 2010, and Saunders believes his familiarity with all aspects of the club meant he could make a smooth transition into the manager's role.
But Saunders also points to his own planning and organisational work over three years, particularly over the past year that has allowed his successor to inherit a "well drilled squad".
"I could ask the back four to play up front and they would all know what to do," said the former Wales and Liverpool striker.
"We got to a point where we knew where it was going wrong. They were that drilled.
"Andy Morrell has been part of that. He's a good professional. I always picked him, near enough.
"He's as brave as a lion and he understood the formula."
Throughout the majority of his reign, Saunders had to work amid a backdrop of financial uncertainty. The club was officially for sale for his final nine months in charge as owners Geoff Moss and Ian Roberts looked to cut their loses.
A proposed takeover has been in the pipeline for five weeks, but the Wrexham Supporters Trust are still waiting for approval by the Football Association and have accused Moss and Roberts of making a late change to a prior arrangement.
Saunders expects Morrell to encounter plenty of off-field problems as he starts his managerial role in earnest, with his first real test set to come in January when the transfer window opens.
"If he doesn't strengthen that squad, the weaknesses will show," he said. "The first thing he should do is strengthen the squad and give Andy the tools."
After a difficult baptism in his first managerial position, Saunders showed signs last season of building a team capable of regaining the club's place in the Football League after a four-year absence.
The Dragons secured a play-off place by finishing fourth in the table, but lost over two legs to Luton Town.
A fine start to the season caught the eye of Doncaster Rovers, who were bottom of the Championship after winning a solitary point from their opening seven games, and Saunders says the offer to move was too good to refuse.
"I'm ambitious and I want to work in the Premier League," he said. "I never planned on working in the Conference."
But he says he will always be indebted to Wrexham for giving his first managerial opportunity, and his one regret is leaving before achieving his goal of returning the club to the Football League.
"After all the hard work, that's when you get the enjoyment," he added.
"When we lost 2-1 at Barrow [in 2010] that's the worst I've ever felt after a game of football. I had so many nights when I thought 'how have we lost that game'.
"Gradually I pieced it all together and someone's going to get the benefit of it.
"If the team win the league, I'll be there hopefully, without spoiling Andy's party. If I'm not there in person, my heart will be there."