Rangers manager McCoist not seeking cover for Naismith
Last updated on .From the section Football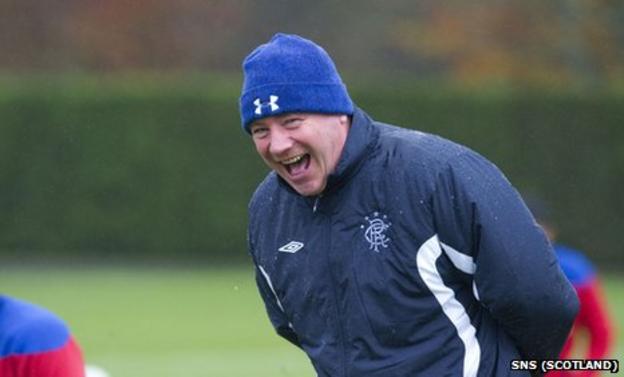 Manager Ally McCoist says Rangers are looking to strengthen their squad in January but will not necessarily seek to replace Steven Naismith.
Naismith has been ruled out for the rest of the season after sustaining a knee injury last weekend.
"I'm not sure we need to replace Naismith in January," said McCoist ahead of Dundee United's visit.
"But you want to strengthen your team and your squad and that will continue to be the case."
McCoist decided against offering a deal to Swedish trialist Joe Sise despite losing joint-top scorer Naismith.
"I've got thousands of others in mind but I will continue to look and monitor and see what happens," McCoist said.
"There are one or two players we are looking at but we are just keeping our options open and looking at players. There is nothing concrete at this moment in time.
"Naismith being out has given us a problem because he could have played up front for us, he could have played in midfield, he could have played in between the midfield and up front and he could have played in the wider areas. He covered us for five or six positions.
"From that point of view, it definitely gives us a little bit of a headache. We will be looking and, if we can strengthen, we would like to."
Meanwhile, McCoist has reiterated his desire to extend Kyle Lafferty's stay at Ibrox.
"I've spoken to Kyle and Kyle is happy here. We are very happy to have Kyle here," McCoist said.
"We would want to extend his contract, Kyle wants to extend it and that's where we are at the moment.
"There hasn't been any figures thrashed out but, when you've got two parties and they both want the same thing, it gives you a good chance of getting a deal."