London 2012: Gary Speed rules out Wales Olympic football ban
Last updated on .From the section Football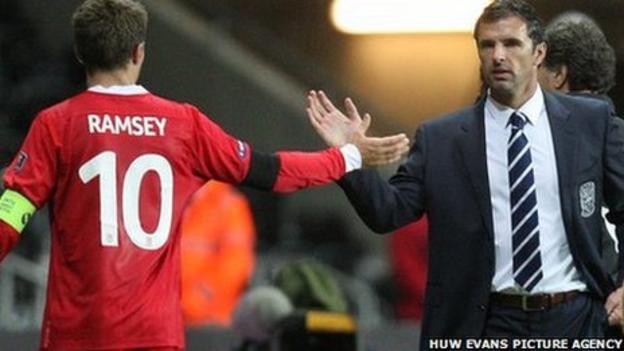 Wales manager Gary Speed insists Aaron Ramsey and Gareth Bale will not be told to reject the chance to play for Great Britain at the 2012 London Olympics.
Ramsey, appointed captain by Speed, and Bale have both been photographed in a GB supporters' shirt and have voiced their desire to play at the Games.
Speed says the publicity shots have not angered him but reiterated Wales' opposition to the team.
"We are not saying to them, 'You can't play'," Speed told BBC Wales Sport.
"It's their choice, they are their own people, they make that choice."
Bale and Ramsey have upset some Wales supporters by wearing the Team GB shirt, while the Football Association of Wales has objected to the British Olympic Association's use of Wales' two top players to promote their football team.
The FAW, along with its Scottish and Northern Irish counterparts, fear a British team threatens their independence as football nations.
And after following Bale in posing in the GB shirt, Ramsey has attempted to assure fans he will not play for Great Britain at the Olympics if it threatens Wales' international independence.
Bale and Ramsey will meet up with the Wales squad this week for their Norway friendly in Cardiff on Saturday, 12 November.
Speed will use the opportunity to discuss the Olympics issue once again with the players but stressed Bale and Ramsey would not do anything to jeopardise Wales' international sovereignty .
"Hopefully we'll have a good chat about it," said Speed.
"We're not saying, 'You can't play [at the Olympics], you're not doing this, you're not doing that.
"We're not angry with them. They've just been used to promote [the team]."
While Bale and Ramsey have made their ambitions to play clear, the ultimate decision to release the players will be taken by their clubs.
Arsenal manager Arsene Wegner has already raised his concerns over possible play burnout, and insisted Olympic football is "not a real competition".
The men's football tournament starts on 26 July and ends with the final at Wembley Stadium on 11 August - a period during which Premier League clubs will be fine-tuning their pre-season preparations.
Wales are set to play their final friendly match on 15 August before starting their World Cup qualifying campaign in early September, the fixtures for which will be decided in Belgium later in November.
"That friendly would be a big game for us because it would be the one leading into the first game in the World Cup [qualifiers]," Speed added.
"We want to be playing a strong team. We want to be playing Spain, Italy or someone like that where they can really test us and get us ready of the World Cup campaign.
"That's when they boys will have to make decision [on playing at the Olympics]."