UAE league hoping for Asamoah Gyan impact
Last updated on .From the section Football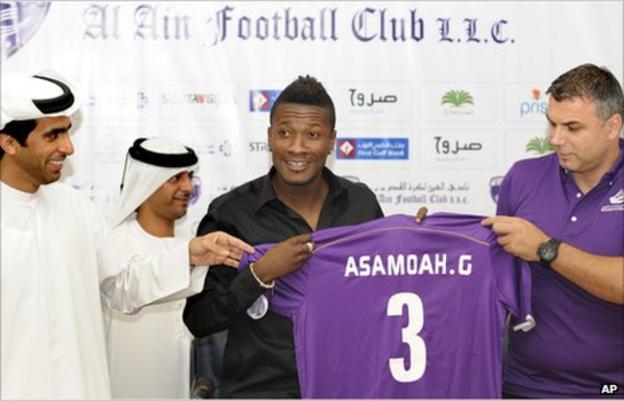 It's been two months since Asamoah Gyan shocked the football world by joining United Arab Emirates club Al Ain for the season.
Sunderland's Ghanaian striker, 25, became part of the most expensive loan-deal in history.
He swapped the English Premier League for the UAE Pro-League for a reported fee of $10m.
That appears to have been money well spent as Gyan scored his first goals in the 2-1 over Dubai SC last week.
The result lifted A Ain to second place in the standings.
But besides helping Al Ain challenge for their first championship since 2004, CEO Carlo Nohra also hopes his presence will help to persuade more high-calibre stars to follow in his foot-steps.
"To have such a high-profile player who has played in the World Cup and the Premier League is a tremendous benefit to the club," he told BBC Sport.
"Everyone here realises that we do have a genuine world star on our books - I hope he will fulfil their expectations and all the hard work from our board will pay off.
"The league is starting to attract some big names and that bodes well for the future of football in this country."
Gyan was joined by former French World Cup winner David Trezeguet at Baniyas and new Al Wasl manager Diego Maradona on the UAE's stellar cast-list when the season kicked off in mid-October.
According to Abdullah Al Junaibi, vice-chairman of the governing Pro League Committee, their arrival is just the start of ambitious plans to make the Pro-League the best in Asia.
"I hope that it will take five years and then we will start moving to the next phase, which is the worldwide plan," he said.
"Each team has started bringing in some big names to try and keep up with each other.
"That gives us credibility for people to be interested in watching our league and will also improve technical standards. We consider the league itself as a product and that's why we are trying to build a good image for it."
But while the arrival of a 33-year-old Trezeguet at the end of his career is one thing, persuading younger European-based stars to move to the UAE will be a much tougher task.
Nonetheless, Nohra believes it will be possible to attract more players to the country.
"Different players have different ambitions and we have to try to match those ambitions," he said.
"We cannot offer European football but they can still play in continental competition in Asia, even if it nowhere the standard of the Champions League.
"We believe that the country has a lot to offer in a football context but to make it profitable, we need to have such players here."
Nohra added: "But it has to be a league-wide effort to make the country attractive to players of that calibre and I know that it is certainly the intention for the league to become one of the best in the world."