Manchester United's secret move to appoint Sir Alex Ferguson
Last updated on .From the section Football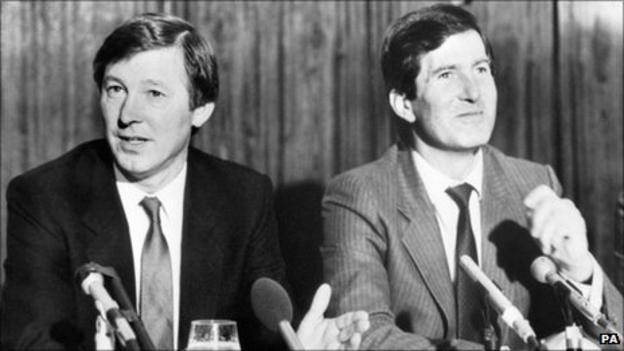 Manchester United's honorary president Martin Edwards has revealed the clandestine approach the club used to secure the services of Sir Alex Ferguson in 1986.
Edwards was United's chairman 25 years ago, while Ferguson was Aberdeen boss.
He told BBC Sport: "I couldn't ring up and say, 'It's Martin Edwards, the chairman of Manchester United, can I speak to Alex Ferguson?'.
"So we decided to get [United director] Mike Edelson to put on a Scottish accent and pretend to be Gordon Strachan's agent Alan Gordon, who knew Alex well.
"So he put on a Scottish accent and the secretary put him through and Mike told Alex, 'It's not Alan Gordon, Martin Edwards wants a word with you'.
"I said we'd be interested in talking to him and that we'd meet him that evening, bonfire night in 1986. We drove up to Scotland just to make sure everthing would be OK before I made the official approach the next day to the chairman of Aberdeen.
"We needed to find out if Alex was prepared to come because the last thing we wanted to do was sack Ron [Atkinson] and then find out we were managerless."
Edwards said the United board was unanimously behind appointing Ferguson who, in a seven-year period from 1979, had guided Aberdeen to three league titles in Scotland, four Scottish FA Cups, one Scottish League Cup, the Cup Winners' Cup and Uefa Super Cup.
He added: "We had already made the decision before we met him on that night - it was a unanimous decision of the board to go for Sir Alex.
"We knew the success he'd had at Aberdeen, which was a reasonably small club when he took over. He broke the dominance of Rangers and Celtic and his crowning glory was winning the Cup Winners' Cup in 1983, beating Real Madrid in the final."
It took Ferguson until 1990 to win his first silverware at Old Trafford, the FA Cup. Edwards conceded that, if the Scot was starting out at the club in today's more cut-throat world, he may have been under more pressure to sack him.
Edwards said: "We had to patient and wait three to four years for first cup but we knew how hard he was working. We thought it would only be a matter of time before he became successful.
"We were beginning to get under pressure in 1990 because things hadn't turned around. The pressure today might be even greater and I'd like to think we would be as patient but you never know."
Edwards believes there is only one area that Ferguson would like to improve on his CV - his record in the Champions League.
United have won European football's biggest domestic tournament twice under Ferguson's stewardship but Edwards said: "When he looks at his CV, the 12 titles in the Premier League is supreme, almost unsurpassable.
"[The] two Champions League in 25 years, he might think he deserves a little more than that.
"I think that's the area that he would want to improve on."