Swansea City 'made a mark' at Liverpool, says Brendan Rodgers
Last updated on .From the section Football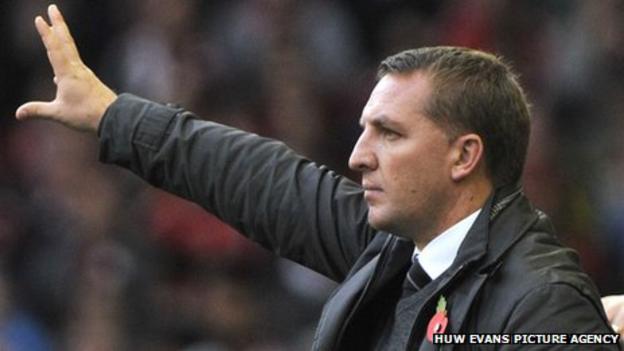 Brendan Rodgers says Swansea's draw at Liverpool proves they are worthy of their Premier League status.
The Swans were applauded from the pitch by the home fans after securing only their second away point of the season.
"I think we made a mark as a big team in the Premier League," said Rodgers. "I said that to them afterwards
"I felt [they] became big players in a big league in a big city at a big ground."
Swansea had the joint-worst away record in the Premier League this season prior to facing Liverpool.
But Swansea emulated Sunderland and Norwich by securing a point at Anfield against Kenny Dalglish's side.
"Obviously to come and be able to do that at a place like Anfield was fantastic," said Rodgers. "We played football and I was very proud.
"I thought our performance was outstanding, with and without the ball. Tactically I though we were very good.
"There's moments in the game where you have to defend in a medium block, in a low block and then you have to be able to identify the moment to press high up the pitch.
"I though we done all three aspects of that. When we had to defend deep we did that well [and] made the right decisions.
"When we defended in the middle of the field we did that well but there were also possibilities at the right moment to press high up and that caused them problems as well.
"Our concentration and mentality in the game was outstanding.
"I think people will see we are learning and to get a point away at Anfield is obviously a big result for a newly promoted team."
Following the international break, Swansea will resume their Premier League campaign in a fortnight at home to Manchester United.
The Swans will be defending an unbeaten record at the Liberty Stadium against Sir Alex Ferguson's side.
Rodgers says the Swans can look ahead to the game on 19 Novemberand the rest of the season with confidence on the back of a three match unbeaten run.
"We've been improving all the time and I only think we'll get better," he said.
"[In the] second half of the season we'll grow and grow once the players get even more confidence."