Coach Thompson praises Celtic's fitness in Fir Park win
Last updated on .From the section Football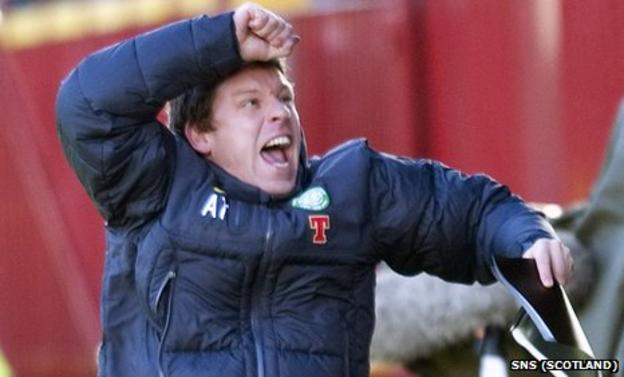 Celtic coach Alan Thompson declared victory over Motherwell at Fir Park a "massive win".
"Motherwell made it physical and made it difficult for us as we knew they would but we stood up and they were men out there," said Thompson.
"It's never, ever been an easy place to go and get a result so we're just delighted with the three points.
"The energy levels the lads showed, we didn't fatigue at all, which is testament to how fit the players are."
Motherwell took the lead through Michael Higdon's header but Anthony Stokes quickly equalised.
Paddy McCourt and Gary Hooper were sent on as substitutes and the former combined with Stokes to set up Hooper's winning goal.
"It's disappointing to go a goal down in the manner we did," Thompson told BBC Radio Scotland.
"It's something that we've looked at and looked at and looked at. It seems to keep happening.
"But, credit where credit's due to the boys, they were exceptional.
"They keep going and going and for the last month or so we've been asking a small group of players to keep playing midweek, weekends, midweek, weekends and they just keep going and it's difficult.
"While you'd really like to change it a little bit, rest it a little bit, freshen it up, we haven't got that luxury at the minute but the lads have shown some really promising signs in the last few weeks in terms of football and in terms of their mentality.
"Paddy comes on and that bit of magic he's got wins you the game.
"We left him out with a view that we might need him later on and look what happens, he comes on and the manager gets it spot on with the change."
With international football taking place next weekend, Celtic's next match is on 19 November against Inverness.
"We've lost one in 12 but there's been too many draws in there," added Thompson.
"We'll be looking to kick on now. We've got a break now; we might have one or two back when we come back from the break, which'll be a bonus."