Spurs boss Harry Redknapp 'optimistic' of returning for Villa game.
Last updated on .From the section Football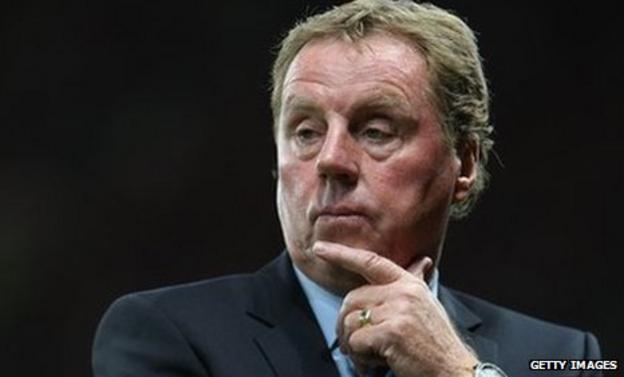 Tottenham Hotspur manager Harry Redknapp is "optimistic" of returning for Monday's Premier League game with Aston Villa at White Hart Lane.
Assistant manager Joe Jordan revealed the Spurs boss is close to completing his recovery.
"Harry could be back for the Villa game. He's very keen and optimistic of that happening," said Jordan.
"It will depend on his conversation with the medical people who are giving him advice, If he comes to the game he'll be on the bench." (as opposed to the stands).
The 64-year-old had two stents inserted, while the treatment is known as a coronary angioplasty and is classed as a routine procedure.
Redknapp initially predicted he would return for his side's match against Fulham, but later said he would try to remain calm while watching the game on television.
"I don't think it will have been too easy to watch the last 20 minutes on TV, Jordan added.
"Against Fulham it would have been torture watching the game and not making substitutions or decisions. He will have suffered a lot more."
Redknapp is not the only top-flight manager to have undergone coronary angioplasty.
West Ham boss Sam Allardyce had the procedure after chest "discomfort" at the end of 2009 but returned to work with Blackburn soon afterwards, while former Liverpool boss Graeme Souness had heart surgery in 1992 but led the team out in the FA Cup final days after leaving hospital.
Manchester United boss Sir Alex Ferguson had a pacemaker fitted in 2004, but was back at work the following day.
Other managers have had more serious heart-related conditions. Joe Kinnear had a triple-heart bypass in 2009, which ended his time in charge at Newcastle, having previously suffered a heart attack during his time as Wimbledon boss.
Former Liverpool and Aston Villa boss Gerard Houllier had to have an 11-hour emergency aortic dissection after experiencing heart problems at half-time during Liverpool's game against Leeds in 2001.
In June a recurrence of cardiac pains saw the 63-year-old Frenchman leave Aston Villa after nine months in charge.
Speaking after the procedure, Spurs chairman Daniel Levy said: "We are delighted the operation went so smoothly and successfully. Knowing Harry he will want to rush back but it is important that he only does so when he has recovered properly."