Chairman Raj Singh could quit Darlington role
Last updated on .From the section Football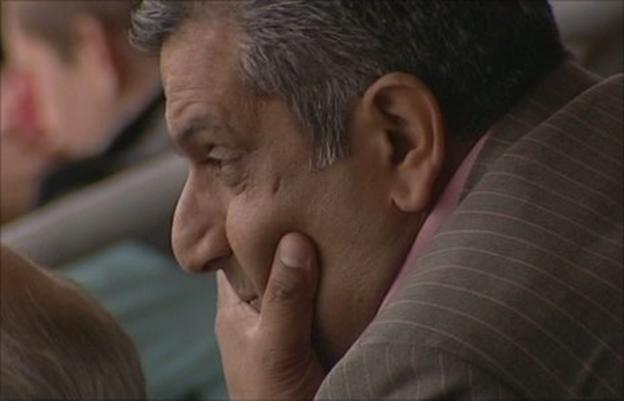 Darlington chairman Raj Singh is close to ending his involvement with the Blue Square Bet Premier club due to their difficult financial situation.
Singh has been frustrated by a failure to settle debts to creditors, poor form and a stadium covenant that sees three-quarters of income go to the council.
"I came along and thought I could make a difference," Singh told BBC Tees.
"I've tried but I'm fighting on three fronts now and it looks like it's a fight I'm not going to win."
If the Quakers used the stadium land for anything other then football, they would currently surrender 75% of profits generated to Darlington Borough Council, thanks to a covenant placed on the venue.
And an ongoing bid to settle a debt to creditors Graham Sizer and Philip Scott, who are seeking repayment on a loan agreed with former chairman George Houghton, has stalled.
In addition, a rise in the playing budget has failed to produce improvement on the pitch, with Darlo in the bottom half of the Blue Square Bet Premier, .
Administration for a third time is a possibility if no resolutions can be found, but, for the moment, the Teesside businessman has issued a two-week call for change.
"Hopefully the council will get around the table," said Singh.
"If the council don't get around the table, then there's nothing happening and we're just putting off what's inevitable.
"The next couple of weeks are the big one.
"The players got us into the position. I keep hearing players saying we've got to share responsbility, we've got to do this, do that. Now here's their chance."
The club are also currently without a manager following last month's departure of Mark Cooper.
In the interim, head of youth development Craig Liddle is handling first team affairs, while Singh considers a replacement.
"We interviewed three people," he said. "Three very good candidates.
"It has encouraged me that the candidates who applied are good. We must be doing something right.
"However it's pointless bringing them in until we get everything sorted out."