Jack Butland making most of Cheltenham Town chance
By Caroline Chapman
BBC Sport
Last updated on .From the section Football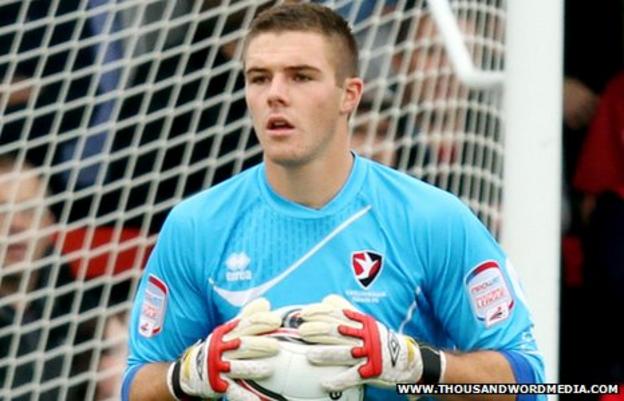 Cheltenham Town is not the first place you would expect to see Premier League scouts on a Saturday afternoon.
The arrival of the 18-year-old went unheralded at the time.
But in just two months, Butland has gone from being mooted as one-to-watch at parent club Birmingham City, to becoming first choice at the Robins and claiming the number one jersey in Stuart Pearce's England Under-21 squad.
His form has helped Cheltenham to third in the table, and such has been his impact that Butland has already been linked with a move to the top flight.
Not that the Bristolian is thinking about that just yet.
"It's been a really good experience and I've enjoyed every minute of it," he told BBC Sport. "It was going to happen at some point and it's about preparing yourself and making the most of that opportunity and hopefully I've done that."
Cheltenham manager Mark Yates snapped up the 6ft 4in shot-stopper in September - just a week after he had made his Under-21 debut in the 6-0 demolition of Azerbaijan in the Euro 2013 qualifiers.
At the time Yates claimed he was drafting in the youngster to give some healthy competition to long-serving Scott Brown. But he threw Butland into the first team straight away, ending Brown's run of 107 consecutive starts for Cheltenham.
He has held onto the jersey ever since - keeping an impressive five clean sheets in nine games.
"I did feel bad for Scott because he's a good lad and a very good goalkeeper but there's only one person who can play," said Butland.
"He's been very supportive and professional about it. Any competition in any position helps to push each other on and hopefully I've done that with Scott and he's done that with me.
"I've learnt from the whole experience - from the manager and all the staff. It's a different experience I'm not used to and I really enjoy working with them."
An influential figure behind Butland's success is Birmingham coach and former Barnsley keeper Dave Watson, who has been working with the teenager since he signed for Blues' youth team aged 14.
"The big thing for me as a coach was this year he needed to go and play some league football to enable his development to keep progressing," said Watson.
"His presence is massive. He's got a calm influence and he doesn't get flustered in the big game scenarios. He's a confident young man and his performances are now showing what kind of a guy he is."
Watson has helped nurture England internationals Joe Hart and Ben Foster during their time at St Andrew's and believes Butland is on course to matching their success.
"I don't want to put any added pressure on him but for a lad of 18 to be playing league football and to be holding his own in the Under-21s is a phenomenal achievement," Watson said.
"In the two years he's worked with those lads he's certainly not disgraced himself in his own performances. I'm sure they've aided his development as much as anything. Knowing what he's all about he can certainly go on and emulate those guys.
"If he continues to develop like we want him to then I have no doubt that one day we'll be talking about him in the same breath as Ben Foster and Joe Hart."
Despite not yet making it into the starting XI, Birmingham were quick to fend off advances for Butland by tying him to a three-year deal to keep him at St Andrew's until 2015.
And never one to shy away from a challenge, Butland is ready to prove his worth to manager Chris Hughton.
"I will start pushing for my first-team place, but whether I get it or not is a different story.
"I want to keep pushing and getting games to prove I do deserve a first-team place but obviously that's the manager's choice. I plan to make it as hard a decision for him as possible."