Namibia fans back Burkina Faso appeal - Wermann

By Ibrahim Sannie
BBC Sport
Last updated on .From the section Football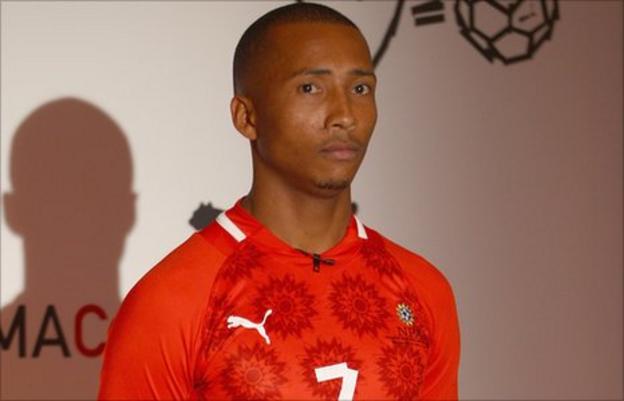 Namibia midfielder Bradley Wermann says the whole country is behind the legal battle to play at the 2012 Africa Cup of Nations.
After their initial claim was dismissed by the Confederation of African Football (Caf) on a technicality, Namibia appealed the decision - with a hearing set for next Tuesday.
"The people are behind the Brave Warriors: they want us to qualify and they want us to fight for this," the midfielder, 25, told BBC Sport.
Should Russia-based Herve Zengue be found to be ineligible to play for Burkina Faso, then Namibia stand in line to replace the Stallions at January's Nations Cup finals.
Born in Cameroon, Zengue is married to a Burkinabe but there are serious doubts over whether he fulfils Fifa's criteria to actually represent the Stallions.
The world governing body's statutes say that a player born outside any country must fulfil one of three other criteria in order to represent them.
His mother or father was born on the territory of the relevant association.
His grandmother or grandfather was born on the territory of the relevant association.
He has lived continuously for at least five years after reaching the age of 18 on the territory of the relevant Association.
The Namibian FA is very confident that Zengue does not satisfy the criteria and so believes Article 36.12 of Caf's Nations Cup rules will help it reach the 2012 finals.
This states that a team which allows a 'non-qualified or a suspended player to take part in group matches shall lose the match by penalty (3-0), even in the absence of protests/reservations'.
Zengue played in two qualifiers for Burkina Faso, both of which ended in victories over Namibia, so an additional six points could retrospectively qualify the Brave Warriors should they win their appeal.
"Caf has got rules saying that these players should not play, so we are very disappointed that Caf ruled out [our protest last month]," Wermann explained at an event to launch Nambia's new Puma kit.
"For most of our players, it was their last chance to qualify for a Nations Cup so they wanted to play and they were very sad too to see this.
"We are hoping that Caf can look through its decision again so that we can go and play."
Namibia have only ever contested two Nations Cup finals - in, ironically, Burkina Faso in 1998 and then in Ghana ten years later.
And Wermann says that appearing at a third finals would give football in a country with a population of just two million a massive boost.
"We are a small nation, with a small number of footballers, so it is very difficult for the players to go and play outside - because we don't have exposure," said a man who plays for Black Africa in the capital Windhoek.
"We don't have people to come and watch players - or take players to Europe - and we need to export our players so that we can become better as the Brave Warriors."
Only a handful of Namibians - such as Germany-based Benjamin Collin and Swindon Town's Oliver Risser - have ever played in Europe.
Should Caf fail to overturn the Namibians' appeal, the latter's FA has told BBC Sport that it will take its case to sport's highest legal body - the Court of Arbitration for Sport in Switzerland.
At present, Burkina Faso have been drawn in Group B of the 2012 Nations Cup - where the three rivals are Ivory Coast, Sudan and Angola.