Chris Webb: From postman to president

By Natalie Cornah
BBC South West sports presenter
Last updated on .From the section Football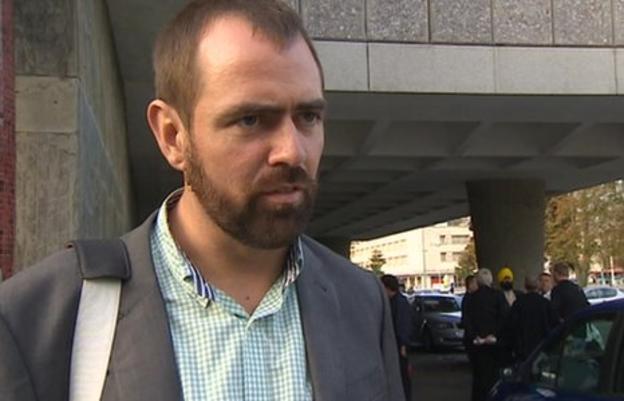 From postman to president. That is a particularly apt headline to describe Chris Webb.
Webb only came to our attention this year, but he is not a man you forget easily.
He took over from Graham Clark as the chairman of the Plymouth Argyle Fans Trust in May. It was a crunch time for the club as staff were not being paid and many of Argyle's senior players were released.
As he puts it, he was the right man at the right time. He galvanized the fans, gave them a voice, and started on a crusade to save his beloved club, tackling any obstacles head-on without fear. Conflict resolution is his game - and he is good at it.
"This represents ones of the greatest moments of my life," said Webb.
"I see the award of the role to a supporter as a sign that we are truly looking at doing things differently at Argyle.
"Never at any point was recognition for our work on the agenda, helping to save Argyle was done because we all loved the club."
The hours Webb works are staggering. His alarm regularly goes off at 0400 and he's still working at 2300.
He started off as a postman and is now the Communication Workers' Union's divisional representative for South Wales and the South West which involves a lot of travelling.
He was the youngest ever rep to be elected to this position - something he is rightly proud of. Put that alongside his Argyle duties which took up all of his spare time and he has effectively had two full-time jobs.
This recent honour is the second Argyle accolade for Chris. In 1980, when he was just three hours old, his Dad sent a photo of him to the club programme and it was printed. He was named the club's youngest ever supporter. Now he is the president - "chuffed to bits is an understatement" - he wants to be the club's conscience.
"I am a working class boy with strong beliefs and values. I will carry these features into the role as president and will never change what I am or what I stand for," added Webb.
"I am proud to be the club president but I feel that I am there not as an individual but on behalf of the whole Green Army."