Peter Coates criticises Howard Webb's display at Bolton
Last updated on .From the section Football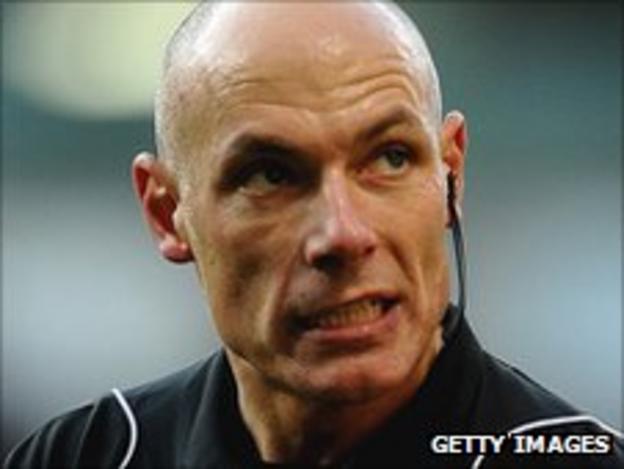 Stoke chairman Peter Coates has criticised referee Howard Webb's decision to allow Bolton's first goal to stand in their 5-0 defeat on Sunday.
Webb awarded an indirect free-kick inside the penalty area for a back-pass against Glenn Whelan after two minutes.
Kevin Davies scored from the quickly-taken restart to put Bolton ahead.
"The first goal was a disgrace by the referee in my view. We didn't give them a goal start, the referee did," Coates told BBC Radio Stoke.
"How he can think that was a deliberate back-pass, I'll never know. That part of the rule book is virtually not operated any more.
"I can't remember the last time I saw a free-kick given for a back-pass to the goalkeeper, it's that long ago. It's been ignored, quite rightly.
"And then to allow the goal to stand compounded the bad judgment."
Although very disappointed with the decision, Coates said it is unlikely that the club will issue a complaint to the Referees' Association.
"They make mistakes, like players make mistakes, like chairman and managers make mistakes, like journalists make mistakes," he added.
"It just happens but it was a very bad decision and it had an influence on the game. Goals change games, it's an old cliche but it's very true."
The defeat was Stoke's third consecutive loss in the Premier League and leaves the Potters just three points above the relegation zone.
"I don't attach any blame, we're a team," said Coates. "We've got a good squad of players and I'm sure, over the season, they'll give a good account of themselves."