Titus Bramble fined by Sunderland
Last updated on .From the section Football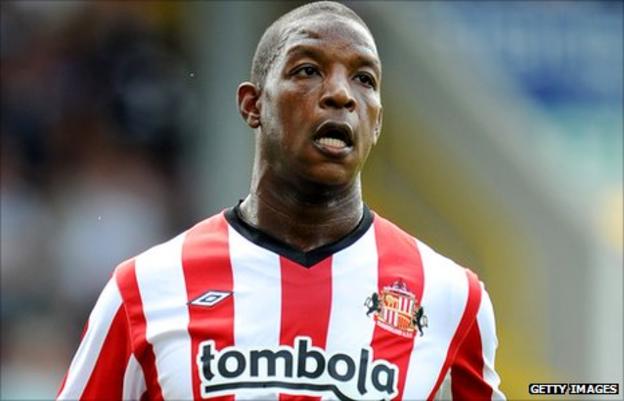 Sunderland have fined defender Titus Bramble for "bringing the club's name into disrepute".
Bramble, 30, had been criticised by manager Steve Bruce for visiting a nightclub on a Tuesday evening in September the day after a defeat.
A club spokesperson said: "Titus Bramble has been fined and given the maximum sanction permitted for bringing the club's name into disrepute.
"Sunderland AFC is unable to comment further at present."
Bramble was after the night out.
He was also arrested on suspicion of sexual assault and possession of a Class A drug.
The drugs charge has since been dropped, but Bramble is due before Teesside Magistrates' Court on Thursday charged with two counts of sexual assault and one of urinating in a public place.
Bramble's lawyer has said his client would be vigorously contesting the allegations.
Criticising Bramble for having been in a nightclub, Bruce said: "I don't think you should be in a nightclub on a Tuesday night. I don't think any footballer should be in a nightclub on a Monday night, Tuesday night or Wednesday night - not with a game on a Saturday, especially after the way you have just been beaten on the Monday night.
"In my day, the vast majority of people I played with would have put their head down, gone into the bunker and said, 'Well, I am going to go and train hard and put it right on Saturday'."
Bramble's career started at his hometown club, Ipswich, before he moved to Newcastle United for £5m in 2002.
He then joined Wigan Athletic before moving back to north-east England with Sunderland last year.
Bramble, who was picked 10 times for England Under-21s, last played in the Wearsiders' 2-1 defeat at Norwich in September.