Northampton Town's Lewis Young glad of Ashley's support
By Jon Wilkinson
BBC Northampton
Last updated on .From the section Football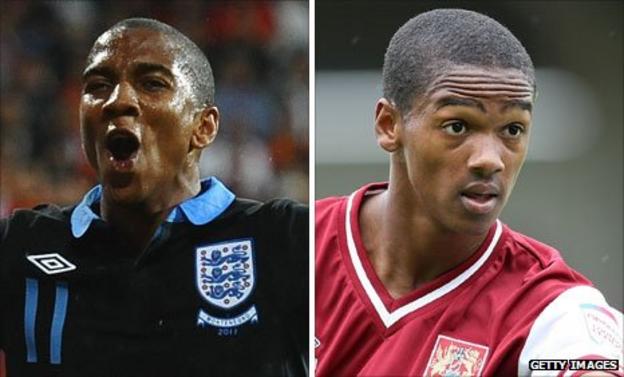 Manchester United winger Ashley Young has already lived up to a reported £17m transfer fee with what Sir Alex Ferguson has called an 'exceptional' start to his Old Trafford career.
But the England international remains committed to calling his younger brother and Northampton Town recruit Lewis to assess their respective performances and offer support.
"He's on the phone to me every day," 22-year-old Lewis told BBC Radio Northampton. "He's a massive influence but it's like I live with him.
"He's at a different level to me, but he knows it's all football, and he'll always be there to help me."
The rise and rise of Ashley's career is well known. He joined Aston Villa from Watford in 2007 for an initial £8m fee, and subsequently joined Ferguson's side in June.
Meanwhile, Lewis joined League Two side Northampton in July, having also been with Watford, and having spent time at Hereford and Burton Albion. He has made 19 Cobblers appearances and came close to opening his goalscoring account against Rotherham.
Sibling rivalry means he had extra reason to hope the own goal in that game might have instead been awarded to him.
"We have a little competition going - it's whoever can get the most goals, assists and man-of-the-match awards.
"To be fair, Ashley's doing very well on assists and goals.
"I've had a bit of an up and down start to my professional career, but at Northampton, I feel like I've come on leaps and bounds."
Father Luther and mother Sharon have had key roles to play in their development, whilst older brother Martin offers advice as someone who also came close to making it as a professional.
"Ashley has been there, Martin is really proud of us and my dad was a good player as well.
"It's a really close family."
The pair are far from being the first footballing siblings in the professional game, but the prospect of having a third family member involved at a high level is realistic.
Fifteen-year-old Kyle Young is with Arsenal's academy - and could outshine even Ashley.
"He'd finish youth league seasons with up to 80 goals and fingers crossed he keeps going," Lewis said.
"He's got more natural ability than me or Ashley ever had."
As for how and why there are two Youngs in the professional ranks, and another possibly joining them, Lewis points to the environment created by their parents and coaches, all the way back at Ashley's Stevenage Colts or his Pin Green.
"You've got the enjoyment factor, with us going to the park as youngsters and just wanting to play all the time," he said.
"Our parents were always there for us, whatever we wanted to do.
"And sometimes it's in the genes and honing our talents. Ashley's so good at set pieces because of years and years of practice, even after training."
As to his own future, Lewis quotes his mother and her attitude towards chasing success.
"She'll always say, 'everyone's path is different and the race is not for the sprinters, it's for the ones who can endure it'.
"So far, we've done that."