Everton takeover talks ongoing, says chief executive Robert Elstone
By Phil McNulty
Chief football writer
Last updated on .From the section Football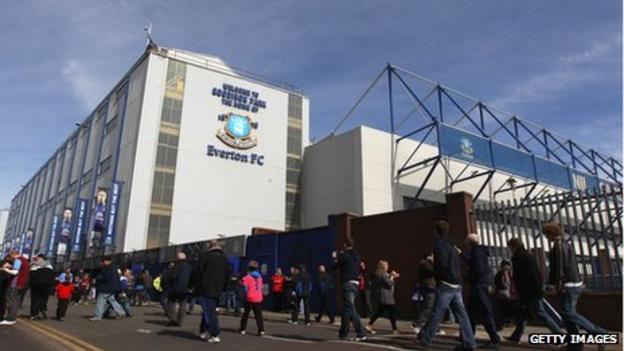 Everton chief executive Robert Elstone says "genuine conversations" are taking place about a potential club takeover.
Indian construction giant Jain was the latest group to be linked with a move for Everton and officials held talks with chairman Bill Kenwright.
But BBC Sport understands that Jain's was only one of a dozen initial approaches made to the club in the past 12 months.
Elstone said: "There's been a constant stream of interest and dialogue."
There has been no hint that Jain will follow up with a bid, and no developments are expected imminently, but Elstone insists Everton is for sale.
He told the club's website: "There are a number of individuals, groups and companies interested in Everton and genuine conversations are taking place about future ownership and future investment.
"The club is always receptive, responsive and professional, which means we respect the confidentiality agreements which prevent either side from disclosing the interest."
Everton fans' group The Blue Union is planning a second protest against what it regards as stagnation under the current Kenwright regime before the home game against Wolves on 19 November.
Elstone added: "Of course, we fully understand what you [the fans] want to know is will these discussions be successful. That I can't say. Discussions are still at an early stage.
"What I know to be absolutely the case is the first question asked by us in these discussions is never 'how much?' but always 'what are your thoughts, intentions or plans for Everton's future?'
"I'm tired of saying it but the club is absolutely for sale and has not failed - and will not fail - to be sold because it's too expensive or comes with onerous conditions.
"We sincerely hope the right buyer, with the right motives, with a commitment to take Everton forward is part of this current dialogue."
The Blue Union, which staged its first protest before Everton's 2-2 draw with Aston Villa at Goodison Park in September, insists its aim is not to oust Kenwright but to act as a catalyst for a change in direction, as Everton have struggled through a lack of finance to compete with Premier League rivals.
The club currently lie fourth from bottom of the Premier League having won only one of their last six league games.