Jersey Football Combination consider promotion play-off
Last updated on .From the section Football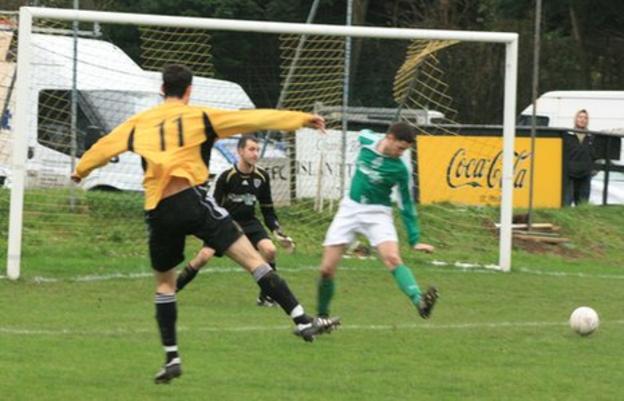 Jersey's Football Combination are to look into the possibility of introducing a play-off for promotion to the island's Premiership.
The discussion document outlines how the island's football authorities want to run the game up to 2015.
When proposals for a play-off were last put to the island's 19 clubs five years ago they were rejected.
"There are statistics to show that the second team coming up often struggles the following season," Jersey Football Combination president Tim Darwin told BBC South West.
"You could potentially get a stronger Premiership if you got the second-from-bottom team in the Premiership to play off against the second top team in the Championship.
"The arguments against it are that if you get promoted you've got the chance to strengthen.
"The last time this was discussed the clubs voted against it because they felt if you've gone though a whole season and you finish in a position to get promoted you should have a chance to prove yourselves."
There has been one promotion play-off for a place in the top-flight of Jersey football. In 1999 St Brelade, who finished second in the old second division, played second-from-bottom St Peter.
But that play-off came about because of a team pulling out of the league and the need to re-align the divisions to make sure there was an equal number of teams.
There was also a play-off for Jersey's first division title in 2006 after St Peter and Jersey Scottish finished level on points. That scenario would still remain should two sides finish level at the top.
The league will also discuss whether reserve teams could gain promotion to the Championship. At the moment Jersey's first and second divisions are solely for reserve teams.
"I can see the benefits of it because if you're a reserve team player at a top side there's a ceiling you could hit at the moment.
"But you couldn't have two teams from the same club playing each other in the same division, so if you had a Premiership side the reserves could only play in the Championship," Darwin said.
And he reiterated his strong stance against a Jersey side following a similar path to Guernsey and playing in an English league.
"Jersey football should definitely not go down that route.
"Unlike Guernsey we've got a very strong league. Why would you want to weaken that league by taking your 30 best players out of it? It would be nonsensical.
"I'm not in it for the 30 best players, I'm in it for everyone. Two and a half thousand people play football in Jersey, not just the 30 elite players.
"What Jersey should be concentrating on is a good representative programme for those elite players.
"You don't destroy a well-run and successful league to do that," Darwin added.