Blyth Spartans test FA Cup reputation against Gateshead
Last updated on .From the section Football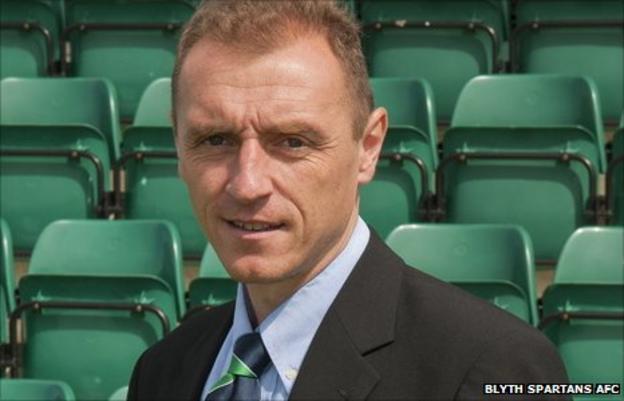 The Northumberland port of Blyth is renowned for three things; coal mining, ship building - and giantkilling.
Blyth Spartans might be a part-time club in the Blue Square Bet North, but they have a proud FA Cup history.
Just ask Stoke City fans of a certain vintage, who saw their Division Two side ousted by the Northern League outfit in 1978 season - en route to a famous televised fifth round replay defeat by Wrexham at St James' Park.
More recently, in December 2008, it was the turn of then-League Two side Bournemouth to suffer a similar fate, before Spartans bravely bowed out at the hands of Premier League side Blackburn in the third round.
This time round, having reached this stage with wins over Bedlington, Whitby and Droyslden, Blyth's present outfit have the opportunity to repeat those feats when they take on fierce local rivals Gateshead in Saturday's first round tie.
"It doesn't come much bigger for people from Blyth and Gateshead, especially in the FA Cup," Spartans manager Steve Cuggy told BBC Sport.
"You can't understate the importance of it. There are financial rewards and there's the exposure the club gets, which is really good for raising the profile."
Recent form between the two clubs favours Blue Square Bet Premier side Gateshead, particularly given their higher status and, in particular, last season's 2-0 FA Trophy success at Croft Park.
However Tynesiders boss Ian Bogie has been part of shocks of his own as a player.
He helped Port Vale to an FA Cup success against Everton in 1996 and then took league side Brentford to a replay during his current spell as manager of Gateshead.
"Blyth will be encouraged by what they've achieved in the past," said Bogie.
"The adrenaline will be pumping, likewise for us, and they'll raise their game.
"League form and professional status go out of the window.
"It's a dangerous game but this is what we're in football for, and I expect us to win as I do every time we take to the field."
Cuggy left his assistant manager's post at three-times FA Vase winners Whitley Bay this summer for the manager's position at Blyth after Mick Tait's departure.
"The Vase has done wonders for Whitley Bay," said Cuggy. "The FA Cup has done wonders for Blyth so we hope to continue that.
"This is the biggest game of my career. It's bigger than any of the Vase finals.
"It's several levels up, and it's a big challenge playing against a full-time team."
Despite the rivalry between the two clubs, relations between the men in the technical areas at Croft Park are expected to remain cordial throughout.
"I get on very well with Ian, we go back a few years," Cuggy added.
"His children went to the same school as my children and we used to have a chat while we waited to pick them up.
"Since I got the Blyth job, Ian has really helped us a lot, gave us a rundown on a few players who might be useful, although I couldn't afford most of them.
"He's been very helpful and we have a good relationship."