Zengue case could destabilise us - Jonathan Pitriopa

By Ibrahim Sannie
BBC Sport
Last updated on .From the section Football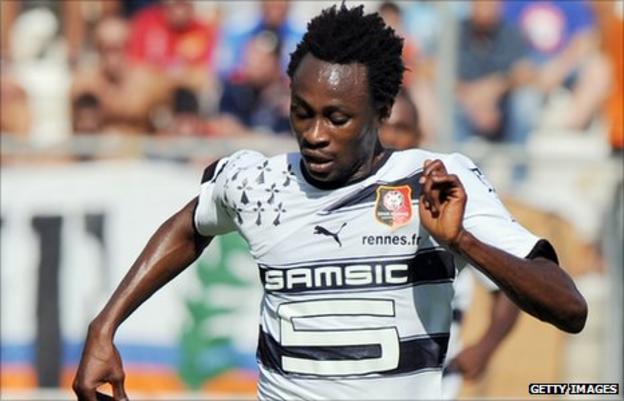 The uncertainty surrounding Burkina Faso's participation at the 2012 Africa Cup of Nations is affecting the players, says star winger Jonathan Pitroipa.
Should Cameroon-born Herve Zengue be found to be ineligible, Burkina Faso's place at the finals could be taken by Namibia.
"When you are waiting for a decision, it destabilises you a little," the Rennes winger, 25, told BBC Sport.
"But the federation and the minister have given us confidence that they can handle the problem - and that everything is going to be sorted before the Nations Cup."
The appeal by the Namibian FA (NFA) will be heard by the Confederation of African Football (Caf) on Tuesday 15 November, although another rejection may not end the matter.
The NFA is appealing last month's decision by Caf to dismiss its protest on a technicality, one which the Namibians have challenged for differing reasons.
And the NFA is so convinced of its case that it has pledged to take its case to the Court of Arbitration for Sport, sport's highest legal power, if Caf dismisses its protest again.
This would further cloud Burkina Faso's participation at January's finals and inflict potential damage on the Stallions' fortunes in Equatorial Guinea and Gabon, Pitroipa warns.
"I hope that everything can be sorted out very quickly so that we can prepare for the Nations Cup in peace - we need that," Pitriopa said at the launch of Burkina Faso's Puma kit for the 2012 Africa Cup of Nations.
Burkina Faso have been drawn to play against Angola, Sudan and tournament co-favourites Ivory Coast in Group B of the competition.
And the talented winger believes the Stallions will be contesting the Nations Cup when the dust finally settles on the Zengue affair.
"For us it's an administrative problem, not a football one," said a man who has impressed many in French football since his arrival from Germany in July.
"But I don't think there will be a problem because I believe everything is correct with Herve's papers.
"It's normal that Namibia should want to qualify from this administrative basis, but I believe that they have seen that we are stronger on the pitch.
"We showed that in both our games against them, which is the only thing for me that counts - I still think that Burkina Faso will be at the Nations Cup."
Burkina Faso are scheduled to begin their Group B campaign against Angola in Malabo, the capital of Equatorial Guinea, on 22 January.