Kidderminster Harriers chairman Mark Serrell denies boardroom rift
Last updated on .From the section Football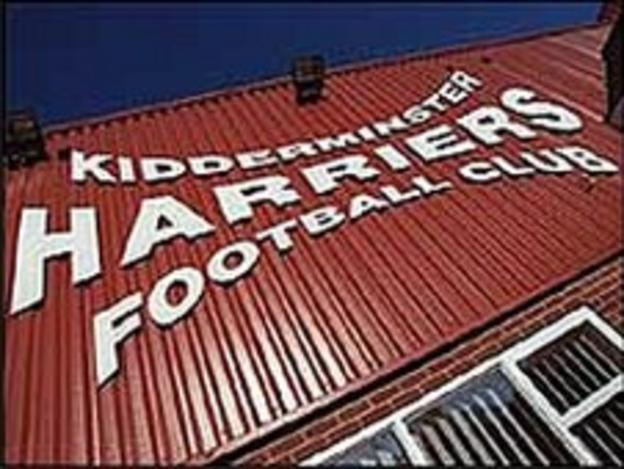 Kidderminster Harriers chairman Mark Serrell has denied rumours of a rift at the Blue Square Bet Premier club.
Three directors have stepped down but Serrell says the changes are amicable.
"There has been no bust-up with Wayne Allen and Keith Chandler whatsoever and both were at the club yesterday," Serrell told BBC Hereford & Worcester.
"I have emailed them today and Andrew [Maidstone] in exactly the way I would do normally just to keep them informed of developments."
Vice-chairman Allen and director Chandler will revert to associate directors, while Maidstone has resigned from the Harriers board.
But Joe Hancox remains as financial director and the club are also planning to return to the concept of having fan representation on the board.
Maidstone has cited the pressure of work in his own business as the reason for his resignation, although he will still be assisting Hancox.
The Aggborough club's board currently comprises Serrell and Hancox, with Serrell's wife Ruth acting as company secretary.
But the Harriers chairman says they are actively looking to bring in fresh blood in an effort to reinvigourate the club and generate increased revenue.
"We are looking to attract new people to join the board and we certainly have one local businessman who has agreed some financial support to come on," he said.
"We are hoping to attract one or two others but I can't make any specific comment on those people at the moment.
"We have also agreed with KHIST [Kidderminster Harriers Independent Supporters Trust] that the representative they would like to put forward will join the board of directors."
In February 2011 Harriers came within three hours of going into administration and despite their financial position now being far more stable, Serrell says there is a lot of work to be done.
"It is sustainable although I think it is very hard to do and that is why we are looking at other avenues of income other than just football."
"The money that you get for being in division two compared to the Blue Square [Premier] is hundreds of thousands of pounds more.
"I would love for Kidderminster Harriers to be in that position as you would also get much more from sponsorship and gate receipts would go up as well."