Ramsey & Bale will not jeopardise Wales, says Edwards
Last updated on .From the section Football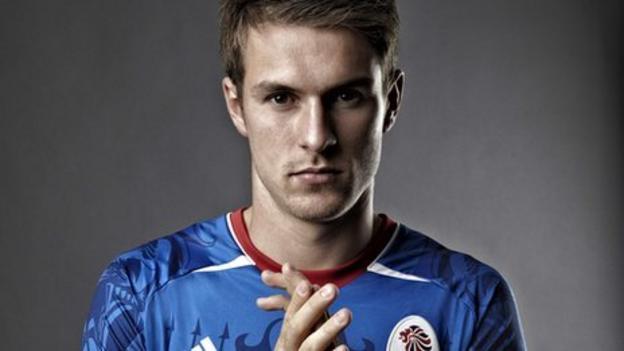 Aaron Ramsey and Gareth Bale will not play for Great Britain at the Olympics if it threatens Wales' independence, according to midfielder Dave Edwards.
Both players have been photographed in a GB supporters' shirt and have voiced their desire to play at the Games.
Wales oppose the team and manager Gary Speed has spoken to the players this week to explain their stance.
"They are proud Welshman and I don't think they would do anything to put the country in jeopardy," said Edwards.
"They are well-mannered men and they've got their feet very firmly grounded.
"It'll be a decision they won't take lightly - it would be very thoughtful and they'll take everything into consideration before they do make that decision."
Speed has revealed that Wales players will not be told to reject any offer they might receive to play for Great Britain at the 2012 Olympics in London.
But, as the squad gathered in Newport on Tuesday to prepare for Saturday's friendly with Norway, the manager told the players why the Football Association of Wales felt that supporting the team could endanger their independence.
The photographs of Ramsey and Bale in a GB shirt have upset many Wales fans, and a supporters' group is planning a protest during Saturday's friendly to urge Wales players not to play at the Olympics.
Edwards says he can understand the hostile reaction from the fans, but suggests that the two players may well have been unwitting participants.
"It's something they were probably told to do by their sponsors and they didn't think anything of it," said the Wolves midfielder.
"It's just been blown out of proportion a little bit, so I do feel for them. I don't think they were going out of their way to make any sort of arguments.
"I saw the photographs and didn't think too much of it but obviously there's been a bit of an uproar.
"But it's a very proud nation and you don't want to lose that individuality."
The Olympic football final will be played four days before Wales play their final warm-up match for the 2014 World Cup qualifiers, which begin three weeks later.
Edwards says his focus will be solely on the World Cup, saying: "It's everyone's dream to play in the World Cup and with the campaign starting closely after, we've got to be ready for those games."