Manchester City striker Mario Balotelli says he is not 'mad'
Last updated on .From the section Football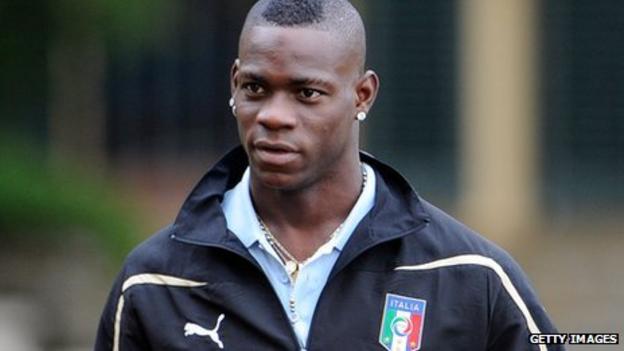 Manchester City's Mario Balotelli says he is not "mad" but "entertaining".
The Italy striker, 21, said he would be boring if "I didn't do what I do".
"I'm not mad as some people say, although sometimes I'm entertaining. I'm ready to take on responsibility, even if people think I'm not," he said.
"They seem to talk more about my private life than about what I do on the pitch."
Balotelli, who moved to Manchester City from Inter Milan in August 2010 for a reported £24m, has found his form this season, scoring seven goals.
The striker said: "English football has taught me pressing and chasing back after the opponents when I lose the ball.
"I don't miss the Italian championship, the standard is very low, while English football is beautiful, wonderful and enjoyable."
Balotelli, who has made five appearances for Italy and has yet to score for his country, said it was time to do himself justice at international level.
"I need to wake up and get going," he said.
"For me scoring is the biggest thing. Victories are important but so are goals.
"I know I can arrive to the top. If I'm good up front it's not because I'm fortunate."
Italy, already qualified for Euro 2012, visit tournament co-hosts Poland on Friday for a friendly and host Copa America champions Uruguay the following Tuesday.