How MP who is qualified referee helped end poppy row
By Richard Conway
BBC Sport
Last updated on .From the section Football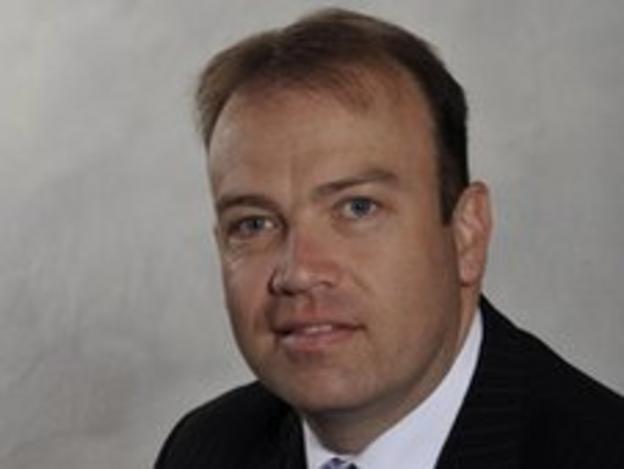 A backbench Conservative MP who is a qualified referee has emerged as the catalyst for resolving the poppy dispute between The FA and Fifa.
Football's world governing body bans political, religious or commercial messages on shirts and had denied a Football Association (FA) and Football Association of Wales (FAW) request for a poppy to be displayed on their kits this weekend.
Chris Heaton-Harris MP, acting in conjunction with a senior Fifa adviser, called Fifa's secretary general Jerome Valcke on Wednesday afternoon and proposed his idea for the England team to wear black armbands with the poppy emblem.
"Valcke instantly warmed to the idea despite the fact there was a protestor from the English Defence League (EDL) on Fifa's roof at the time," said Heaton-Harris.
"He [Valcke] understood the significance of the poppy but Fifa were in a position where, under the rules of the game, they couldn't sanction it being displayed on the England shirt.
"However, they were looking for a solution rather than an extra problem."
Heaton-Harris, with Fifa signalling that a potential deal was on, contacted the managing director of Club England, Adrian Bevington.
Once briefed, Bevington is understood to have then faxed a request to Fifa asking for permission for England to wear the amended armbands in their game against Spain at Wembley this Saturday.
Downing Street was kept informed of the proposed deal throughout Wednesday afternoon, with Prime Minister David Cameron alluding to the potential for a compromise in his letter to Fifa president Sepp Blatter which stated he hoped a "sensible solution" could be found.
Pressure on Fifa was also exerted by Prince William who, in his role as president of the FA, wrote to Blatter expressing his dismay at the decision not to allow England to display poppies on their shirts.
However, the potential deal is understood to be have already been near completion when the news broke of the Duke of Cambridge's intervention.
Heaton-Harris, who represents the constituency of Daventry, was keen to underplay his role, saying what he did "was no big deal" and that a variety of factors were at play in the row.
"Fifa and the FA have to have a better relationship and I could see this situation was a recipe for disaster," he said.
"It would have been easy for Fifa to say, given the presence of the EDL, 'you're wrong and we're right' but they weren't intractable and thankfully they also wanted to find a solution."