Freddy Shepherd says renaming St James' Park will deter investors
Last updated on .From the section Football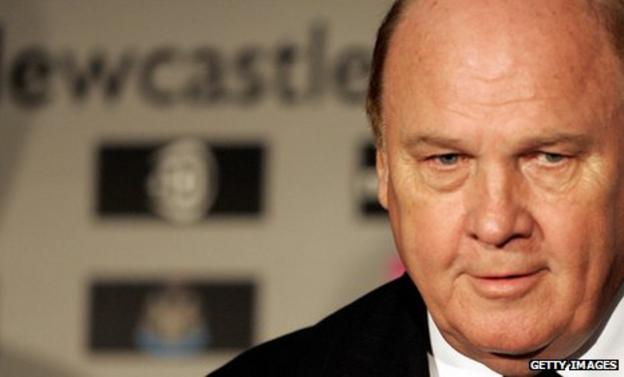 Ex-Newcastle chairman Freddy Shepherd says potential investors will be put off from sponsoring St James' Park - as it has already been renamed once.
Newcastle say the move "showcases" a sponsorship opportunity.
But Shepherd told BBC Radio 5 live: "Do you think anyone else is going to come in, after it's been called the Sports Direct Arena? I don't think so."
Shepherd, who stood down following Ashley's takeover in 2007, claims that no-one will refer to the stadium by its new name.
He also feels supporters will be angered by the removal of the historic name, which dates back over a century.
Shepherd added: "It all comes down to money.
"I don't think the fans will be very happy. St James' goes back to when the monks used to work there, a convent used to be there, and St James' Park goes back hundreds of years.
"Fans in Newcastle, like myself, will always call it St James' Park anyway so anyone claiming the rights, it's not going to do them much good because it's always going to be called St James'."
A statement from the Newcastle United Supporters Trust stated that the renaming shows why fans remain unsure about the current regime in spite of a "softening of attitudes" towards Ashley.
The Newcastle owner has been criticised by fans throughout his tenure, but manager Alan Pardew's team are third in the Premier League after 11 matches.
The trust claims that the renaming will provoke further distrust among fans and spark further calls for Ashley to go.
The statement read: "There was some softening of attitudes towards the owner. However, despite the goodwill that this has brought the owner, fans told us that they remain sceptical about his motivations.
"This latest news about renaming the stadium to the Sports Direct Arena clearly demonstrates why they are sceptical.
"Newcastle's ground has been St James' Park for more than 100 years and two years ago Derek Llambias assured fans that the stadium's official name would always remain St James' Park as long as they were in charge.
"So, is it any wonder that fans told us they don't trust the board, want a new owner and why the majority of Newcastle fans want to own a stake in the club?"
Cricketers and Newcastle fans Steve Harmison and Graeme Swann also made their disapproval of the development clear.
Former England pace bowler Harmison, who plays for Durham, told the Daily Telegraph: "I can only liken it to changing the team's colours to red and white and making us look like Sunderland.
"You do wonder whether they would do that if the money was right."
Current England spin bowler Swann sarcastically tweeted: "Sports direct arena? Yeah course (sic) mike, it's a great name, the fans will love it honestly."
Mark Jensen, editor of The Mag fanzine, claims the decision has "ruined" Newcastle's start to the season and widened the divide between supporters and Ashley.
He said: "If you're looking to get a sponsor for the ground, there are a lot of other ways you can do that without having to infuriate the fans and create and even bigger divide between the owner and the fans and basically ruin the start that Newcastle have made this season."
Striker Sammy Ameobi, 19, made his first home appearance for Newcastle in the 2-1 win over Everton last weekend.
And he tweeted: "Guess my very 1st game at St James' Park...was also my last!"