Darlington Borough Council rejects football club proposal
Last updated on .From the section Football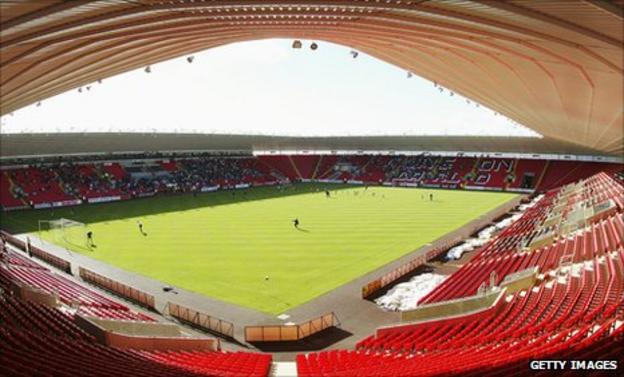 Darlington Borough Council have refused to consider a proposal to remove a covenant on stadium land by Darlington Football Club chairman Raj Singh.
Under the covenant, the council would receive 75% of the sale proceeds for non-sporting use of the land.
The council said that removing the covenant would "not make a difference to their current position".
Land on which the stadium is situated and surroundings passed into the hands of Scott and Sizer when the club's holding company DFC Investments Ltd, of which Singh owned 75%, went into receivership in February.
As creditors, they placed the land up for sale and, when no buyer was found, took ownership as credit for the debt.
Under the agreement, Darlington were charged a peppercorn rent of £10,000 for the stadium.
"We have always welcomed discussion with Raj Singh to discuss all the different ways we can support the club," said Steve Harker, deputy leader of the council and cabinet member for Efficiency and Resources. "That invitation remains open.
"Whilst we wish the club well and are very sorry for its current difficulties, the change in covenant will not make a difference to their current position.
"We have always worked hard to support the club over the years in lots of different ways.
"As we now face our own budget challenges, even if we wanted to provide any subsidy, we are simply not in a position to do so.
"We battle to maintain public services against a backdrop of the removal of over quarter of our Government funding."
George Reynolds moved Darlington from their 120-year Feethams home to the Arena he built in 2003, having arranged a deal with the council to purchase the land.
In a public statement, the council said: "The land was originally sold at a low price, which reflected its use for sports only.
"Any land that is sold for other purposes, such as housing, industrial units or shops, is worth much more.
"As the land being sold was a public asset, an agreement was put on the land that if, in the future, it was sold for any other purpose such as housing, 75% of the increased value would be returned to the public purse.
"This type of covenant is used in many large sales of public land or assets to ensure these assets are not purchased at a low price by developers and then sold on for large profits for a different use and at a loss to the tax payer."