John Arne Riise has 'no problem' with rival Craig Bellamy
Last updated on .From the section Football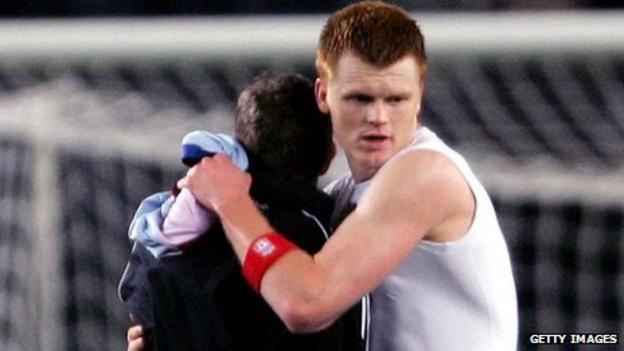 John Arne Riise insists he has "no problem" with Craig Bellamy as they are set to go head-to-head for the first time since their high-profile bust-up.
Now left-back Riise is expected to mark Bellamy when Norway face Wales in a Cardiff friendly on Saturday.
"I've always been all right with Craig Bellamy," said Riise.
Bellamy confronted Riise with a golf club after a karaoke night on the trip.
"What happened in Portugal a few years ago happened," remembered Riise.
The Norwegian added: "But that's not the Bellamy I know and we shook hands quite quickly after that and settled it."
Both players then scored in Liverpool's Champions League 2-1 win against Barcelona and the Welsh forward memorably mimicked a golf swing following his strike at the Nou Camp.
Bellamy left Anfield the following summer but will go up against Riise for the first time since in Saturday's friendly as the Norwegian defender wins his 100th international cap.
"I look forward to seeing him again," said the 31-year Fulham defender.
"And he could be playing on the right, so it could be a nice little friendship again."
Bellamy will be hoping to add to his 18 Wales goals in his 67th international at the Cardiff City Stadium when the Welsh hope to continue their improvement following three wins in four games.
Riise and Bellamy will also be on opposite sides when Fulham host Liverpool just three weeks after Saturday's international as Kenny Dalglish's men visit Craven Cottage on 5 December.
And Riise admits: "I was surprised when he came back to Liverpool but I've always thought he is a good player.
"He's quick, he's sharp, a great finisher with both feet and he works hard.
"He's a tough player to play against because he is so quick and you never know where he is."