Truro City owe tax authorities more than £100,000
Last updated on .From the section National League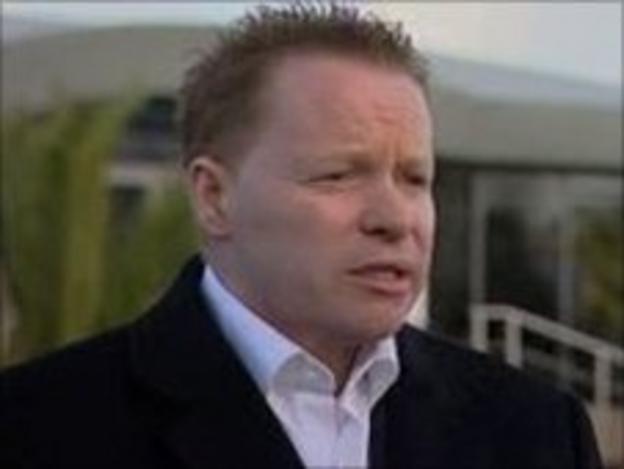 Truro City owe over £100,000 to HM Revenue and Customs and have not paid their players for a month.
The Blue Square Bet South side have been or face a winding-up order.
The figures came out at a public meeting held by the club's chairman Kevin Heaney on Wednesday night.
"They know the situation we're in. I'm sure it'll be resolved this month," Heaney told BBC Radio Cornwall.
"The lawyers are working on it at the moment and I hope it's resolved in the next few days.
"Because of the winding-up petition our bank account was frozen.
"We can only un-freeze it when we've got an agreement with HMRC and that gives us the ability to collect money in that we're owed and pay money out that we owe."
Property millionaire Heaney, who took control of Truro seven years ago, has helped the club , in rising from local football in Cornwall to two rungs below the Football League.
"The trouble we've had is that in just seven years we've got five promotions so we've kind of outgrown the set-up," said Heaney.
"It's a bit like a young man growing so fast and his mum saying 'Blimey, your trousers are around your ankles because you've grown so quickly'. The trouble is our trousers are around our knees."
And he says in order for the club to grow, they needs new investment and to play in a planned new stadium for Cornwall.
"Without the stadium this club is finished. This club cannot go forward.
"For me to sell this club to investors to come in and say 'Be part of this experience, let's go together and become a League Two club in the next three or four years', they'll say 'if there's no stadium, why are we investing?"
Plans are afoot to build a stadium for Cornwall which Truro would hope to share with rugby team Cornish Pirates.
"We're now stuck," he added. "I know the Pirates are now stuck as they need 10,500 capacity to be a Premiership club.
"Everything will done in my power to bring sustainability and to make this club go forward.
"But we need the people of Truro and the people of Cornwall to get behind this club."