Watford owner may not quit as director
Last updated on .From the section Football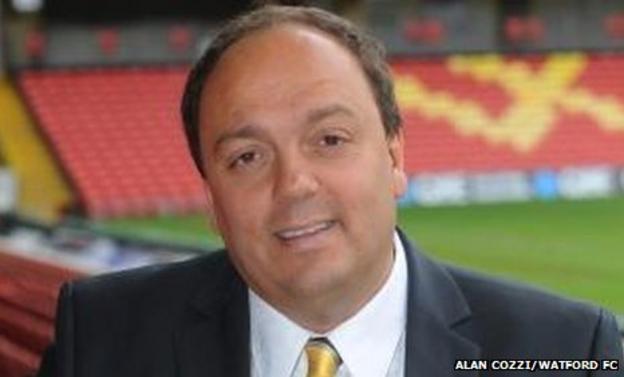 Watford owner Laurence Bassini has said he is reconsidering his decision to quit the club's board.
Bassini's change of heart comes after discussions with fellow directors David Frandsen and Stuart Timperley.
He had originally stated he would leave the board following criticism from chairman Graham Taylor.
Bassini has also said he will continue to fund the club and will honour a commitment he made earlier in the week to inject a further £1m.
"I've spoken to both David and Stuart and I have listened carefully to their views on this week and the club in general," he told the club website.
"I really like the club. Watford has really got into my blood and I'm not going to let anything bad happen, so my funding will continue while we look to resolve other matters."
Taylor said he was "extremely disappointed" that Bassini failed to attend a Hornets fans' forum on Tuesday because of illness.
The Stanmore-based businessman issued an apology to supporters the next day and later stated his intention to quit.
He told the Watford Observer that Taylor's comments had provoked his decision.
After failing to face supporters' questions, Bassini has agreed to take part in a phone-in on BBC Three Counties Radio.
The programme will take place on the evening of Tuesday, 22 November, with further details to follow.