Ibrox name not sacrosanct for Rangers fans' groups
Last updated on .From the section Football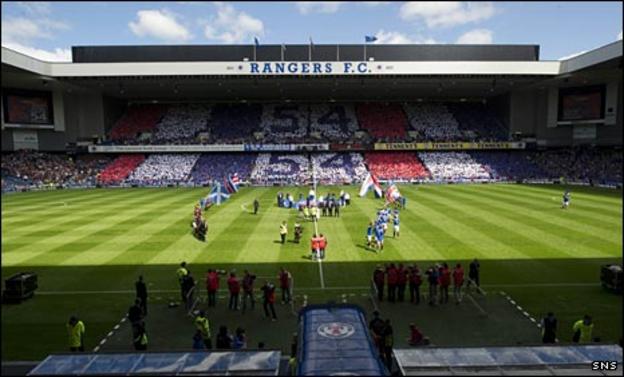 Rangers supporters groups would not be opposed to the cash-strapped Ibrox club following Newcastle's example by renaming their ground to generate cash.
The Press Association is reporting that, while the idea is not presently being pursued, owner Craig Whyte would consider the possibility.
Rangers Supporters Assembly president Andy Kerr says he has to be realistic.
"It looks like sizeable chunks of income ain't going to come from anywhere else," he said.
Newcastle this week announced that their St James' Park ground is now to be called the Sports Direct Arena - named after owner Mike Ashley's retail company - until a permanent sponsor can be found.
"I saw the Newcastle story this morning and the initial reaction to the same thing happening at Ibrox, when you look at the background and history of the stadium, is never-ever," admitted Kerr.
"But you have to have a look at it from a wider perspective and look at it from where we are in financial terms.
"Realistically, something that would give the club a big injection of capital would be foolhardy to turn down.
"What are the options in this current climate? There are not a lot of choices in reality.
"Fans would resist and I understand that, but I think that there is a realisation now and ultimately, the fabric of the stadium is not going to change."
A tax tribunal, in which Rangers are challenging a bill for £49m, has resumed this week.
Whyte, who took over the club from Sir David Murray in May and recently withdrew co-operation with the BBC in light of a television documentary about his past, has not ruled out the prospect of the club going into administration depending on the outcome.
The businessman has said he is duty-bound to consider all cash-raising options, one of which is attracting a sponsor for the famous stadium in the Govan area of Glasgow.
Rangers Supporters Association general secretary John MacMillan admits it is likely to be one of the avenues pursued to attract investment into the club.
"It's got to be on the cards, hard as it may be for the fans to take," he said.
"It won't go down well. But, if it happens, it will be something that we have to get on with.
"We have to look at every avenue for revenue, there is no question of that, and substantial amounts of money are not to be sneezed at.
"The bottom line is the fans will be disappointed, but we have to face up to that possibility."