Fixtures challenges and fancy dress in the Welsh Cup

By Marc Lloyd Williams
Welsh Premier League's all-time leading goalscorer
Last updated on .From the section Football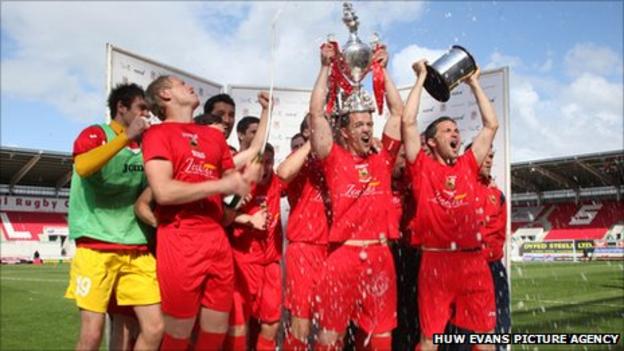 On Monday the draw for the third round of the Welsh Cup was made.
Eighteen clubs had progressed from the second round to join the 12 Welsh Premier League (WPL) clubs.
For the first time in 20 years, Newport County appear, and, after a 16-year absence, Wrexham return - they have won the Welsh Cup more than any other team in its history with 23 victories.
Of the 16 ties to feature, holders Llanelli have a mammoth task ahead with a trip to what will be the last Welsh Cup match at Bangor City's Farrar Road.
Welsh Cup days at Farrar Road are always special - the atmosphere is electric and some of the supporters turn up in fancy dress. The Farrar Road faithful will be hopeful they can sign off their Welsh Cup history at their fortress in style.
To do this, they will come up against a very resolute Llanelli side who are the only team since Porthmadog in November 2006 to beat the Citizens in the Welsh Cup when they trounced them 4-1 in last season's final.
Can Bangor City gain quick revenge? In their two WPL matches so far this season, victory has come for the home side and Bangor will be fairly confident of knocking Andy Legg's team off their perch at the first hurdle.
The shock of the round could come from Latham Park where WPL side Newtown have been drawn against Cymru Alliance high-fliers Rhyl.
Rhyl, who have applied for a domestic licence to return to the WPL next season, can test their credentials against a fast-improving young Newtown team under their new manager Bernard McNally.
Other intriguing ties in the third round are the derby matches between Port Talbot and Afan Lido at the Genquip Stadium, and Carmarthen's home tie against Bridgend Town.
Airbus's visit to the Racecourse to meet Conference leaders Wrexham is a North East Wales derby match and is sure to attract a decent crowd and provide a stern test for Andy Morrell's men. Newport County should easily overcome previous winners Barry Town at Spytty Park.
It will be interesting to see what type of teams Wrexham and Newport County put out in this competition.
I should imagine both will treat the Welsh Cup similarly to the old FAW Premier Cup where the English-based league clubs fielded mainly fringe players and gave youth a chance to play first- team football.
Will Airbus and Barry agree to play their ties in midweek to accommodate them? Both Newport County and Wrexham are scheduled to play league matches on the Conference date of the Welsh Cup against Lincoln City and Tamworth respectively.
However, if they both win their respective FA Cup First Round ties, the second round of the FA Cup is scheduled to be played on the same weekend as the Welsh Cup.
To add to this fixtures problem, both Conference clubs are involved in midweek league action either side of that cup weekend, so this could mean the Conference clubs facing a fixture headache at the beginning of December and no doubt see the these two clubs putting out weakened sides unless Airbus and Barry agree to play them on a date which suits the English-based teams.
The only headache both managers; Andy Morrell (Wrexham) and Justin Edinburgh (Newport County); may have is that if they win the Welsh Cup, they will be able to play Uefa Cup football next season.
I would imagine this will have a bearing on the minds of the managers when picking teams to play in the Welsh Cup, as a successful European campaign can generate good income, which, in Wrexham's case will be fundamental if the takeover by Wrexham Supporters' Trust is successful.
It's no doubt a dilemma that Morrell and Edinburgh will relish and one which will test the strength and depth of their squads in three weeks time.
It's great to have some of the English-based sides back in the Welsh Cup as it give the competition more prestige. However these clubs must not try to dictate when their matches are played.
Both clubs know before entering the competition they have a good chance of qualifying for the Uefa Cup, and there is a good chance of a clash in fixtures with their English competitions which will take precedence over the Welsh Cup.
So, they may have to make sacrifices along the way to as you can't have your cake and eat it!