Departing Crewe boss Dario Gradi is a lower league legend
Last updated on .From the section Football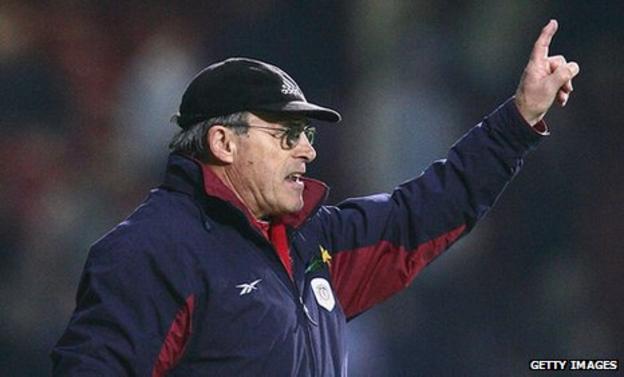 In the same week Sir Alex Ferguson celebrated 25 years in charge of Manchester United, another long-serving manager in English football stepped down from his post.
Dario Gradi had 1,404 games' experience as Crewe manager - just six fewer than Ferguson's tally as United boss.
The 70-year-old is renowned both for his nurturing of talent and the attractive football played by his teams, and his achievements will never be forgotten at Gresty Road.
When he arrived in 1983, Crewe were a basement division club who had only just survived being voted out of the Football League. Gradi would go on to transform them.
The Italian-born manager's initial stint saw him hold the reins for 24 years. He then had a two-year spell as technical director, followed by his latest and final two-year spell as boss.
He took Crewe up to the second tier for the first time in their history, where they spent five years punching above their weight, and they later returned to that level for another three-year spell as they continued to over-achieve.
In the process, Gradi sealed a reputation as a master at developing talent, something which became apparent soon after he moved to Crewe in the summer of 1983.
Youngsters David Platt and Geoff Thomas, who both went on to become England internationals, rapidly emerged and were sold to clubs in the top flight, and Crewe quickly earned a reputation as a conveyor belt of talent.
Gradi continued that tradition in future decades. Neil Lennon went to Leicester for £750,000 in 1996. It was a club record, but it was a figure that kept being surpassed, and the following year Danny Murphy cost Liverpool double.
In summer 1999, Seth Johnson was bought by Derby for £3m and, in early 2005, Dean Ashton headed to Norwich for a similar amount as Gradi kept making huge profits for his club.
Gradi was not just interested in selling promising youngsters such as Thomas, however, and in 1989 he led his club to promotion into Division Two (the third tier) at Tranmere on the final day of the season.
They went back down in 1992 and, despite a memorable run to Wembley the following season, they lost the play-off final against York on penalties.
But just a year later he led them back into Division Two, and Crewe would go on to win the Bobby Moore Fair Play Award from 1993 to 1996 for their excellent disciplinary record.
Things got even better for the club in 1997 when Gradi steered them into the First Division (the second tier) for the first time in their history, defeating Brentford at Wembley in the play-off final.
In 1998 Crewe finished 11th in the First Division, their highest-ever placing, and the same year Gradi was rewarded for his services to football with a date at Buckingham Palace to collect an MBE.
Crewe stayed in Division One for five seasons and although they went down on goal difference in 2002, that season Gradi became the first manager to complete 1,000 games in charge of one club.
The following season saw Gradi lead Crewe to automatic promotion at the first attempt and they stayed up for another three campaigns before eventual relegation from the Championship in 2006.
His achievements in charge of the unfashionable club saw him inducted into the Football Hall of Fame in 2004 but in the summer of 2007, after a mid-table League One finish, he announced he was leaving as manager and would become technical director instead.
It was not to be the end of his time on the touchline though.
In November 2008 he was back in the dug out on a caretaker basis following the departure of Steve Holland. And when replacement Gudjon Thordarson left after only 37 games - taking Crewe back down to League Two during his time at the helm - Gradi was back permanently in September 2009.
This time he was unable to repeat the glory years and he leaves with the club 18th in League Two.
Former England international Thomas knows how hard it will be to replace his former boss, telling BBC Radio Stoke: "It's going to be a tough job, which we saw when people tried to take over before. They're tough shoes to fill."
Incoming Crewe manager Steve Davis was one of Gradi's first signings at Gresty Road. The former Crewe defender, who spent four years at the club as a player, was brought back by Gradi as a coach and then assistant manager.
Davis said: "Dario has had a big impact on my career. The last two-and-a-half years have been a pleasure to work with him and I have learned more in that time than I did in a 19-year professional career.
"I am indebted to him and he has said that he will still be there any time I want advice so I will use that experience and keep that relationship going."
And whatever happens now that Davis has taken over, there is no doubt that Gradi's legacy of building success on limited resources will live on forever at Crewe.