PFA warns against Olympic player 'intimidation'
Last updated on .From the section Football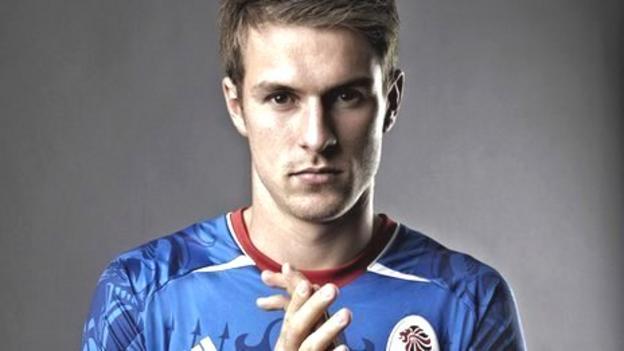 Wales, Scotland and Northern Ireland have been warned not to pressurise young players into rejecting approaches to play at the 2012 Olympic Games.
The three nations have chosen not to endorse Great Britain's football team.
But Professional Footballers' Association chief executive Gordon Taylor believes all players should be free to accept invitations.
He says the players' union will intervene if the players are subjected to what he calls "intimidation".
"I know the officials from Northern Ireland, Scotland and Wales and I'd be very disappointed if there was such pressure," Taylor told BBC Sport Wales.
"I think it would be most unsporting and it would be unnecessary."
Wales have been embroiled in the row over the GB football team more than any other nation.
Captain Aaron Ramsey and Gareth Bale have been photographed wearing a GB supporters' shirt and have voiced their desire to play at the Games in London.
Ramsey said on Friday he had no regrets over being photographed in the shirt, but repeated he would not play at the Olympics if it threatened Wales' status as an independent nation.
Sepp Blatter, president of Fifa, has often given assurances that participating in the GB team would not endanger their independence.
And in a letter seen by BBC Wales' Sport Wales programme, secretary general Jérôme Valcke wrote to the four home nations in April to reiterate that message and urged Wales, Scotland and Northern Ireland to support the Olympic team.
"We would like to invite you to consider modifying the agreement... by removing the restriction that teams would be made up of exclusively English players," wrote Valcke.
"As assured to you previously, Fifa would like to reiterate that such an agreement would not in any way question the independence of the four British Associations in the Fifa statutes."
Taylor says Wales, Scotland and Northern Ireland would be "cutting off their nose to spite their face" if they prevented their players from playing at the Olympics.
The PFA would take an extremely dim view, he added, if those countries would attempt to discourage their players from accepting an invitation to play by implying they would be endangering the nation's future.
"That would be real intimidation, uncalled for and unnecessary," said Taylor.
"I would not want [the team] to be made up of only English players.
"They should make every effort to make it representative of Great Britain and the nations contained within.
"I would hate it if our football tournament was diminished by people taking what I believe would be unnecessary objections."
Wales manager Gary Speed, preparing to face Norway in a friendly on Saturday, has again insisted it will be personal choice for the players if they play at the Olympics.
"It's their decision, I won't be intimidating anyone," he said.
The full interview with Gordon Taylor can be seen on Sport Wales on BBC Two Wales, Friday 11 November at 1900 GMT