Matt Bloomfield column: FA Cup's Wembley loss

By Matt Bloomfield
Wycombe Wanderers midfielder
Last updated on .From the section Football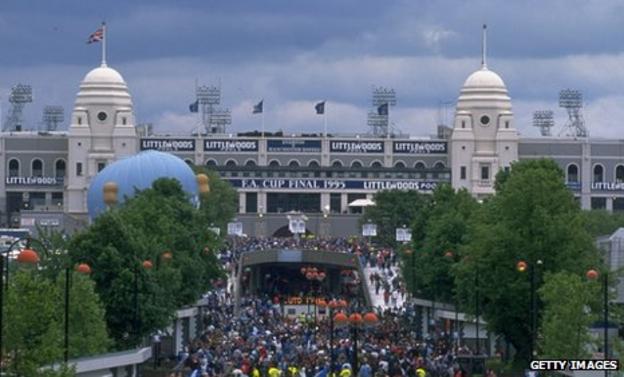 FA Cup first round weekend is a special weekend in the footballing calendar and something that gives players a welcome distraction from league fixtures.
There is something different about FA Cup games. I don't even know what it is, but it's definitely different from a normal Saturday.
I think the crowd anticipates an exciting, open, attacking game. Both sets of players have nothing to lose and just want to win and get through to the next round.
I think part of it is that you always have it in the back of your mind, "If we can win a couple of games and get through to the third round, I'd love to get Man United away".
It's every kid's dream to play somewhere like Old Trafford or Anfield and realistically, winning a couple of rounds in the FA Cup is the best chance that we have got of getting to play there.
It has been said that the FA Cup isn't as big a deal as it used to be and it's not as special as it used to be.
I would say that this is partly true to a point, but as a player playing in the first round, that doesn't come into consideration.
Maybe a little bit of its 'specialness' was lost when the old Wembley was reduced to a pile of rubble. I don't think anything could ever replace the sight of the towers, the track around the pitch and the managers leading their teams out on the long walk from behind the goal.
Times change and obviously Wembley needed modernising to move with the times, but I think the old Wembley was such an atmospheric, historic football ground. I think I'm a bit of an old romantic when it comes to things like that. Having said that, the new Wembley isn't bad, is it?
This year's competition has already had several preliminary rounds and it gives non-league teams the chance to get through to the first round.
It's at this stage when the famous giant-killings can start to take place and there will be a few sides tomorrow that will fancy their chances of doing just that. That is what the FA Cup is all about and what makes it such an amazing competition.
We have been drawn away at Fleetwood, who will be one of the teams who fancy their chances of beating a higher-placed club. They are joint top of the Blue Square Bet Premier and will be full of confidence after their win at Luton last Saturday.
We go there thoroughly looking forward to the game. We are off the back of a morale-boosting equaliser away at Notts County last weekend and we want to progress.
We fully expect a tough afternoon and know that we have to perform if we want to be in the hat for the next round.
The lads are genuinely excited about the game. The draw for the second round just doesn't hold the same excitement if you aren't in it.