Ghana's Hearts of Oak celebrate centenary anniversary
By Michael Oti Adjei
BBC Sport, Accra
Last updated on .From the section Football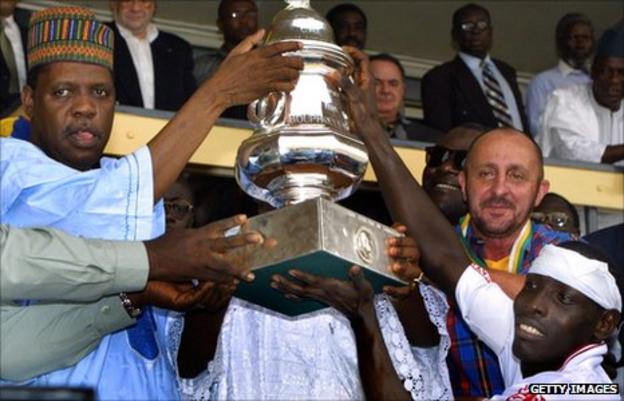 The opening line of one of Hearts' of Oak's most famous chants says 'Hearts Eleven Is A Mighty Team'.
It's an assertion few will deny but as they clock 100 years as a football club there will be many asking themselves how long that will remain.
That Hearts Of Oak is a giant of Ghana football is undeniable and their roll of honours bears that out.
Twenty times, they have been Ghana league champions, their most recent in 2009.
They have won the Ghana FA Cup too nine times and won the CAF Confederation Cup in 2004 after beating their bitter rivals Kumasi Asante Kotoko to the trophy.
Their greatest moment however came at the turn of the new century in 2000 when they achieved their long held ambition of becoming African Champions.
Before then, the club's fans had proudly dubbed themselves 'Continental Club Masters' with no trophy to show for it.
In 2000 they corrected all that beating established African forces El Ahly and Esperance enroute to the title.
That season too they achieved an unprecedented treble in Ghana football adding the Champions League to their collection of league and Ghana FA Cup triumphs.
The hope then especially with the huge price money from their champions league triumph was that they will build on that and go on to significantly challenge the dominance of the likes of Ahly on the continent.
It proved to be a false dawn.
Only once since that win in 2000 have Hearts managed to make it into the group stages of the Champions League.
When they used to call the tune on the local scene, Hearts have had to watch as other clubs like Chelsea and Medeama backed by the wealth of individual owners attract the best players.
Attendances at their league games are falling too and worst still it is a club mirred in debt.
The problems though have no doused the celebratory mood with important figures in the Ghana game lining up to pay glowing tribute to the club.
Ghana Football Association president Kwesi Nyantekyie said: "Hearts is a special club and an important one for Ghana football. We hold them in really high esteem.
"To be around for 100 years and achieve what they have is a tremendous thing to do."
The club itself recognises that things have to improve. Board Chairman Commodore Mensah says 100 years offers them a wonderful oppotunity gives them the chance to take stock and map out how to move forward.
And part of that moving forward strategy has been to list on the Ghana Stock Exchange. That listing has already generated more than $1.5m for the club.
Management member of the club Frank Nelson says while the club must enjoy 100 years of existence, there are crucial decisions to make during the partying.
"We have many beautiful memories as a club but we must create more of those", he says.
"I am confident that in another five to six years we will be competing well on the continent again and challenging for honours. We have gone through a bad spell but we are building this club up well again."
It will be the wish of many of the club's massive following too.