Aaron Ramsey happy to be pictured in GB Olympics shirt
Last updated on .From the section Football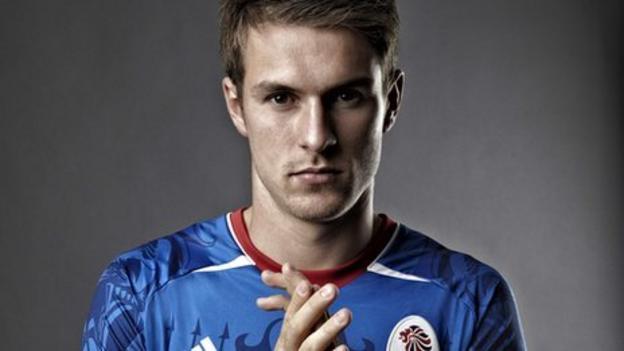 Wales captain Aaron Ramsey has no regrets about posing in a Great Britain 2012 Olympics supporters' shirt.
Ramsey and fellow Wales star Gareth Bale caused controversy by appearing in the jersey following a promotional photo-shoot.
"I don't regret what I was doing. Gareth and I are contracted to Adidas and it was a shoot for them," said the Arsenal player.
Ramsey and Bale are in Wales friendly action against Norway on Saturday.
However, the duo have also expressed a wish to play at the Olympics.
The photographs of Ramsey and Bale in a GB shirt have upset many Wales fans, and a supporters' group is to make their point during Saturday's friendly to urge Wales players not to play at the Olympics.
Ramsey said: "I spoke to Gareth about what happened, but it wasn't just that top that we had pictures taken in that day.
"There were a few others. We were promoting the shirts for them [Adidas].
"Whatever I say about the Olympics I'm going to get a reaction - positive or negative.
"I've said what I have to say about the Olympics and I don't want to say anything else."
Ramsey has also said that he would not make himself available for selection for Team GB if he felt it would affect Wales' independence on the international stage.
Wales team-mate David Edwards says Bale has expressed similar sentiments.
On the eve of the clash with Norway, Ramsey repeated that stance, saying: "My view hasn't changed. If it doesn't affect Wales' identity then I still want to play.
"I hope the fans are supportive. Whenever I put on a Welsh shirt I give 100%.
"Gareth and Joe [Allen] are no different to me.
"We want to go out there and win. I'm a proud Welshman who gives his best every time so hopefully the fans will get behind us and we can get another good performance."
The Olympic football final will be played four days before Wales play their final warm-up match for the 2014 World Cup qualifiers, which begin three weeks later.