Antolin Alcaraz apologises for spitting on Richard Stearman
Last updated on .From the section Football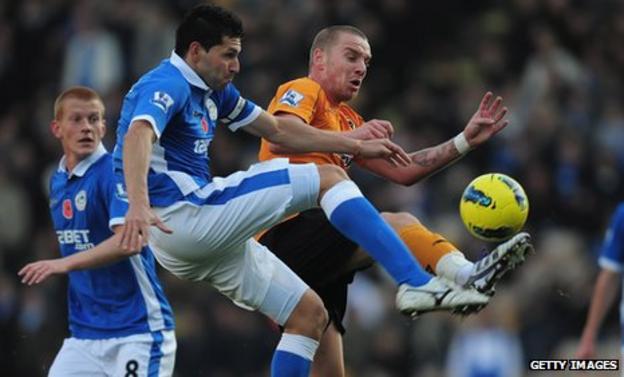 Wigan defender Antolin Alcaraz has apologised for spitting on Wolves defender Richard Stearman during the teams' weekend clash.
"I apologise to anyone connected to our football club for the offence and upset my actions have caused," said Alcaraz.
"I reacted wrongly after being provoked but I never meant to spit on an opposing player."
TV cameras caught the Paraguay international spitting at Stearman, with the incident sparking a mass brawl and earning the wrath of Wolves manager Mick McCarthy.
In a statement on the Wigan website, Alcaraz, who joined Wigan from Club Brugge in the summer of 2010, added: "I was having a confrontation with Christophe Berra and in wanting to show my frustration, my intention was to spit on the ground beside him, which was my way of answering the verbal abuse that I was receiving.
"Unfortunately, as you can see in the video evidence, my spit, instead of finding the ground, regrettably struck Richard Stearman in the chest, and I apologise to him for this.
"I apologise to my fellow players, staff, supporters and everyone associated with Wigan Athletic for the problems this has caused.
"I am hurting now because I know I cannot help my team-mates in the next three games, and for that I am very sorry.
"I will keep working hard to stay fit and be ready to help the team again as soon as the ban is over."
Wigan boss Roberto Martinez added in a statement that Alcaraz had apologised to him and the club are looking to move on.
"The player has apologised to me and has accepted that he did wrong," said Martinez.
"The incident does not reflect the normal character of someone who takes his responsibilities very seriously.
"I know he never meant to spit on an opposing player but he will learn from his actions.
"We have already apologised to Wolves and we are ready to draw a line under it."
Wigan are currently bottom of the Premier League table with only five points and will be without Alcaraz for key matches against Blackburn, Sunderland and Arsenal.