Esperance win the African Champions League over Wydad
By Matthew Kenyon
BBC Sport
Last updated on .From the section Football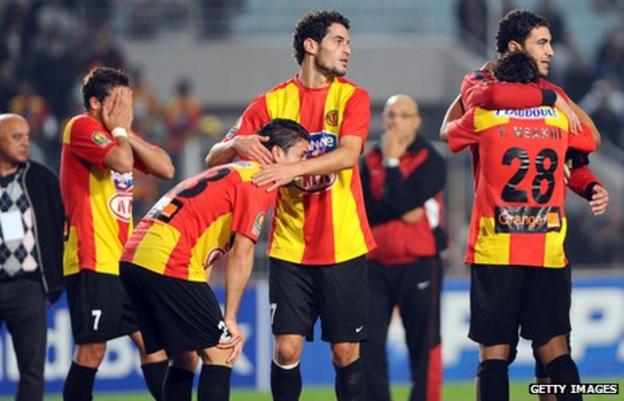 Thanks for following our live coverage of the second leg of the final of the African Champions League, which ended in 1-0 win for Esperance. Reaction to follow on this site.
Esperance 1 Wydad (down to 10 men) 0 - result
1900 And it's all over! Esperance are champions of Africa! After 17 years - and three runners-up spots in that time, the Tunisian giants are back on top of the tree in Africa. Harrison Afful's goal midway through the first half gives them the triumph - they get the $1.5 million prize money and head to Japan for the Club World Cup.
1857 Now we're over the 90 minutes. They're playing out the final moments. Not a dramatic performance from Esperance, who look to have won it without much style - at least in this game. But finally after three draws they look like they are going to get the better of their opponents. Four minutes of stoppage time has been played already.
1853 Approaching stoppage time at the end of the game and the energy has gone. Are both sides settling for this? If Wydad could only get into the Esperance penalty area, they might be able to bag that decisive away goal - but they're miles from there at the moment.
1850 The minutes are ticking away but we can expect quite a lot of stoppage time as there have been lots of injury breaks. Wydad have got more possession but they can't get it forward at the moment. Esperance boss Maloul thinks he's got it sewn up - he's taken off talismanic star Oussama Darragi with Khaled Mouelhi coming on.
1846 Nerves are getting to both teams - it's not an impressive display from either team. The winner won't have much time to get ready for the Club World Cup, which starts on the 8th of December in Japan.
1842 15 minutes or so to go, plus stoppage time, and the game is looking ragged. Decastel is furious but the Wydad players can't find a way through - they are a man down remember. At the other end Esperance have the chance to finish things off as Ndjeng goes one-on-one with the young Wydad keeper Bounou, but the youngster is up to the task.
1835 70 minutes played and Lakhal gets his wish as he is substituted by Michel Decastel, the Wydad coach, who brings on Youssef Kaddioui in his place.
1830 Wydad only have one man up front - striker Fabrice Ondama and he's looking so isolated. The chances of anyone creating a decent opportunity for him are looking slim. But they're only 1-0 down.
1828 Change for Wydad. Fatah is off and replaced by his fellow attacking midfielder Ayoub Skouma.
1823 Not suprisingly perhaps, given that they're down to 10 men, Wydad are labouring a bit. Lakhal is suggesting he ought to come off because of a knock but coach Decastel is reluctant to lose him. Meanwhile the Esperance boss Nabil Maloul is suggesting his team shut up shop and hold on. There's still quite a long way to go in this one though - so that may not be the best policy...
1815 And we're up and running again, with the second half underway. No changes to the line-ups even though Wydad had a man sent off right at the end of the first half.
1753 And that's halftime in a dramatic game for the biggest prize in African club football. Esperance now with a clear advantage of a 1-0 lead and their opponents down to 10 men. But it's not done and dusted yet. So don't go anywhere - except to get a cup of tea.
1750 Drama at the end of the first half. A RED CARD for the visitors! They're down to 10 men as Mourad El Mssane is sent off for an off-the-ball challenge on Esperance striker Ndjeng.
1747 We're playing stoppage time at the end of the first half - 3 minutes of it.
1741 Wydad have gone close a couple of times - closest of all through Fabrice Ondama, who was only denied by Ben Cherifa in the Esperance goal. It's a crappy game with a lot of fouls and not a lot of imagination. The Wydad keeper Bounou, who is only 20 years old, is looking nervous - that could be something for the Tunisians to exploit.
1734 For those of you who are interested in the progress of Nigeria I can tell you that they have played out a 0-0 draw with Botswana in Stephen Keshi's first game in charge as coach of the Super Eagles. He brought back Vincent Enyeama and Dickson Etuhu for the game.
1732 Despite their lead, Esperance are not playing as well as they could. Joseph Ndjeng is isolated up-front, with little service from players like Msakni. Wydad are certainly not down and out yet. Remember that away goals do come into play in this game in the event of a draw.
1729 Esperance go close again - and once more it's Harrison Afful in the heart of the action. He feeds Oussama Darragui but the shot is well wide.
1721 GOAL! Esperance take the lead! And it's Ghana's Harrison Afful with the break down the right and a brilliant left footed shot to put the home team in front. 1-0 to the Tunisians.
1720 Wydad are playing more offensively than expected - maybe committing themselves to getting that away goal - and Esperance have been a little shaken up by it. Despite Darragi's presence there hasn't been much in the way of decent attacking from the home team.
1717 Apologies for the lengthy absence - I've been on Sportsworld on the BBC World Service giving listeners around the globe the latest on this match and the international games which have been played in the last day or so. Meanwhile not much has changed in the Rades - a balanced match with a lot of loose passes and 15 minutes played. 0-0.
1704 Wydad's first chance of the game as Lakhal gets a shot on target but it's straight into the hands of the Esperance keeper Ben Cherifa.
1702 Oussama Darragi is a key man for Esperance - who are looking to take the crown for the first time in 17 years - and he's in action already. A left footed shot goes just wide of the Wydad goal. Don't forget that away goals count here, so Esperance have to be cautious as well.
1700 And we're underway, bang on time.
1658 Don't underestimate the tension in the Rades Stadium either. Mourad reports that fireworks have already been thrown onto the pitch by the Wydad fans, which angered the home support. There will be a lot of security. Couple of minutes to kick-off.
1654 Don't forget that these two teams know all about each other - because they've already played three times in this competition, this year... twice in the group phase and once in the first leg of the final. And the results? A draw, every time. So maybe extra time is favourite already!
1651 I asked our man in the stadium, Mourad Teyyeb, what the atmosphere was like. He replied with one word - Maracana. I think we can take it that it's noisy, colourful, passionate and buzzing. Which is how it should be.
1646 Wydad line-up: Yassine Bounou (gk), Mourad El Massane, Abderrahmane Massassi, Hichem El Amrani, Ahmed Ajeddou, Yassine Lakhal, Mohamed Berrabah, Youssef Rabeh, Yassine Rami, Fabrice Ondama, Said Fatah.
1646 Esperance line-up: Moez Ben Cherifa (gk), Harrison Afful, Khalil Chammam, Walid Hichri, Yaya Banana, Khaled Korbi, Mejdi Traoui, Wajdi Bouazzi, Oussama Darragi, Youssef Msakni, Joseph Ndjeng. Very good news for Esperance that Darragi is fit and available.
1645 The team news is out. We know that Wydad are missing their regular goalkeeper and captain Nadir Lemyaggri and it is confirmed that his place will be taken by youngster Yassine Bounnou.
1640 So we're 20 minutes away from kick off in the biggest club game in Africa. Either Esperance or Wydad Casablanca will have earned $1.5 million dollars in the next couple of hours and earned themselves a place at the Club World Cup next month as well.