Falkirk manager Steven Pressley calls for expanded SPL
Last updated on .From the section Football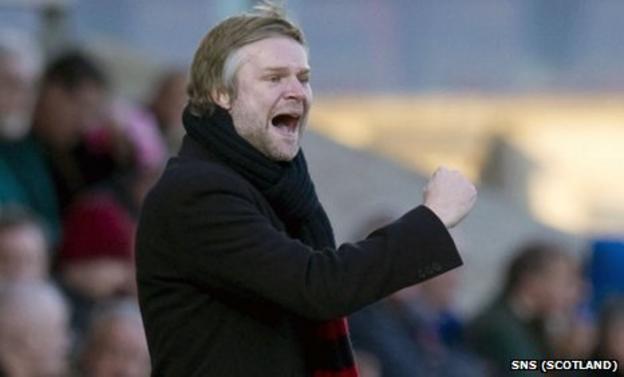 Falkirk manager Steven Pressley has urged the Scottish Premier League to expand its membership and bring fans back to matches.
Pressley feels First Division clubs like his own should be part of a larger top flight.
And the Bairns boss wants "pressure" put on SPL chief executive Neil Doncaster to make "real decisions".
"We need to start making these changes in Scottish football," Pressley told BBC Radio Scotland.
"All the decisions he [Doncaster] makes are for the benefit of several clubs, not for Scottish football as a whole and he needs to seriously come under pressure.
"There was over 4,000 here today [Falkirk's 3-1 defeat to Ross County at Victoria Park].
"If you go to Easter Road, Pittodrie, these type of grounds just now, they're empty.
"The only concern at this moment in time for SPL chairmen is TV revenue. Everything else that they tell you is lip service. TV revenue is all that concerns them.
"We need to get supporters back through the gates - that is the lifeblood of Scottish football - and unless we make signficant changes and we have some people that show the courage and stand up and are prepared to make decisions, then nothing will change.
"They need to entice supporters back through the door and stop being solely reliant on the TV money. If you get supporters through the door, you can take a slight hit in your TV money."
SPL clubs have been in debate about structural reform over the last year but none of the proposals have achieved the necessary agreement to push through change.
A top tier of 10 clubs with 12 in the division below was tabled but that plan appears to have been shelved.
And Pressley feels that increasing rather than decreasing the current 12-strong SPL is the way to go.
"We need to go to a 20-team league and Mr Doncaster has to be put under pressure to start making some real decisions," added the former Scotland international.
"We need to find a solution because you don't want to come to empty stadiums and who's to know? In three or four years' time, if we're reliant on Sky and the supports dwindle away, maybe Sky'll just turn round and say to Scottish football, 'your product's not good enough, you've no supporters in your stadiums' and then what do we do?
"How do we entice these people back once they've dwindled away? It's time to reverse the cycle.
"We need supporters through the gate. Yes, we need to get the right product but we need to change the league to entice them."
Pressley was speaking after his side's 3-1 defeat to Ross County, which left the Bairns six points behind the Scottish Football League Division One leaders with the Falkirk boss saying he was "proud" of his team's performance despite the defeat.