Newport keeper Danny Potter slates 'sickening abuse' from own fans
Last updated on .From the section Football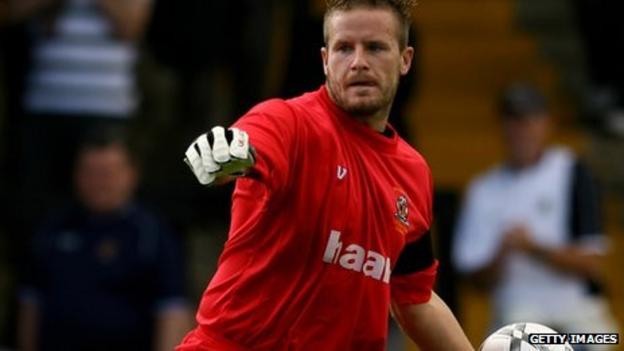 Newport County goalkeeper Danny Potter says the players were subjected to "sickening" abuse from their own fans during Saturday's FA Cup tie.
"We were coming off at half-time and the abuse we were getting was sickening. And I mean sickening," said Potter after losing 1-0 to Shrewsbury.
"I was disgusted coming off that pitch at half-time. It was personal abuse, which we don't have to put up with.
"We came out and we try to do our best every game."
Potter, who made his County debut in August, claims the abuse directed towards the players from the stands on Saturday is not an isolated incident this season.
"We hear it every game," said the 32-year-old former Chelsea trainee.
"We come off the pitch and there are seven or eight of us that are saying that they've heard it throughout a game - from the first minute to the last minute.
"We deserve criticism but the personal comments made today were embarrasing."
Before Saturday's first round FA Cup tie, Newport manager Justin Edinburgh had called on the home fans to inspire the players and to create a hostile atmosphere for League Two visitors Shrewsbury.
But Potter said the "minority" of abusive fans had the complete opposite effect by infuriating their own players with their personal abuse.
"We deserve criticism because we are under-performing," he said, referring to Newport's position in the Blue Square Bet Premier relegation zone.
"But the way a few of the fans out there behaved isn't going to get this club anywhere.
"Before I came here I was told what great fans they are. And like I said, 90-95% of the fans are fantastic.
"They've shown that away at Forest Green, but a minority has let them down."
Potter added that the abuse has made him consider his future at the club.
"To hear that from the fans coming off the pitch makes you question what it is you want," he said.