Gary Speed surprised by Wales progress
Last updated on .From the section Football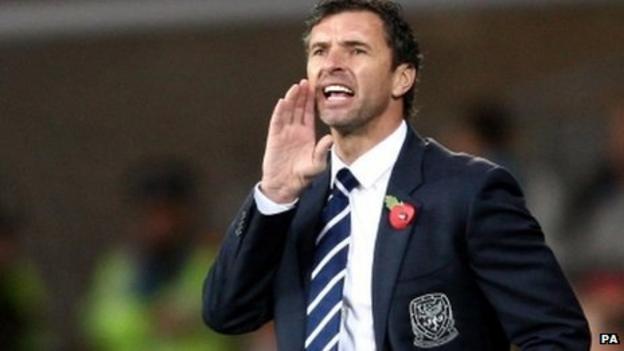 Wales manager Gary Speed says his side's rapid improvement has exceeded all expectations, but stressed they are by no means the finished article.
"We've progressed further than I'd have thought in this space of time but we've still got a lot of work to do," said Speed, who took over in December 2010.
"Norway caused us a few problems and we'll learn from that."
The confidence and sense of optimism in the Wales squad is a complete contrast to the dispondency and embarrasment in August when Speed saw his side sink to their lowest Fifa ranking in history.
A friendly defeat to Australia saw them fall to 117th place - below the likes of Azerbaijan, Guatemala, Haiti and the Faroe Islands.
But wins over Montenegro, Switzerland and Bulgaria helped propel Wales up to 45th place - their highest ranking in 17 years.
"I'm satisfied," said Speed, evlauting his first 10 games in charge.
"It was a slow start, but we knew it was always going to be a slow start because there was so much we had to do.
"Those results in the early days, although disappointing for everyone, we knew inside that camp that we were on the right track.
"We didn't really take too much notice of the results. Now we're getting results it's fantastic."
Speed, appointed despite only four months managerial experience, stamped his mark on the Wales set-up by recruiting his own support staff and appointing Aaron Ramsey as captain.
He has even changed the hotel used before home matches in an attempt to distance the players from the past failures.
"It was a losing atmosphere," said former captain Craig Bellamy recently.
"As soon as we turned up we were used to getting beaten. Winning's a habit, but so is losing and we certainly had that."
Speed appeared at his most downbeat after the defeat to Australia, but the former captain says the result marked a watershed in his side's development.
He said: "It was the best thing that has happened to us, as after that game we really spelled out to the players what we wanted from them and the win against Montenegro in the next game was a result of that.
"It hasn't happened overnight, on the surface it may look like it, but the work we put in from February to August has now shown its rewards."
And Speed, who won 85 caps for his country during a 14-year international career, modestly questioned whether he would deserve his place in the Wales midfield if he was still playing at his peak.
"Sometimes you look at the attacking quality on the pitch and think, 'He's not bad is he?'," said Speed.
"I don't think I would have got in that team, all the way through it has quality and they are all good players and hopefully they can believe that and take that belief forward."