Gareth Bale salutes Gary Speed's Wales revival
Last updated on .From the section Football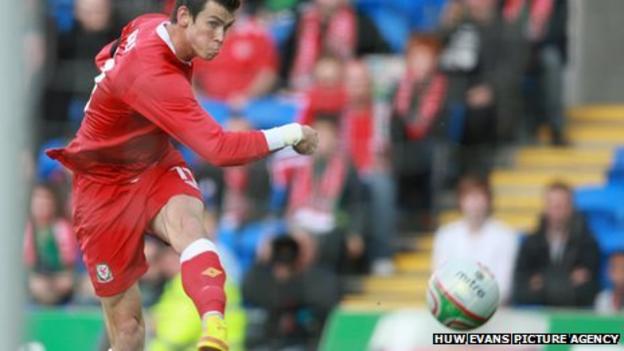 Gareth Bale says Gary Speed and his backroom staff deserve most of the credit for Wales' recent revival.
Bale scored for a third consecutive game on Saturday in the 4-1 rout of Norway, as Wales won three in a row for the first time since 2008.
"It's fantastic," said the 22-year-old Tottenham Hotspur winger. "We've all put in a lot of hard work - the coaches more than anyone.
"The players have just replicated that on the pitch and in training."
Speed endured a difficult start to his managerial reign as he lost four of his first five games after succeeding John Toshack.
But that record has been completely reversed by four wins in the last five, including three competitive wins at the end of what had been a disappointing Euro 2012 qualifying campaign.
Bale has emerged as the catalyst for Wales' renaissance over those games, scoring in the wins over Norway, Bulgaria and Switzerland.
He was also outstanding against Montenegro in September as Wales secured their first win in five attempts in the Euro 2012 campaign.
The only frustration for Bale, though, is that Wales will now have to wait 10 months for their next competitive match when the 2014 World Cup qualifiers begin next September.
"It's a bit disappointing we've got such a long break," he added.
"We're on a run at the moment which we would have liked to be on a bit earlier.
"We've got a good team spirit now and a winning mentality and we want to keep that going."
Bale was one of six players to start for Wales against Norway who played with each other at under-21 level.
Another seven squad members have also emerged together from Brian Flynn's guidance at youth level.
"We all know each other's games quite well and it's something we take out onto the pitch," he said. "We gel well as a team together."
Despite the growing optimism that Wales can qualify for a major tournament for the first time since 1958, Bale stressed the recent improvement will count for nothing unless they mount a serious challenge in the World Cup qualifiers.
He said: "We still know there's a long way to go but we're going to keep working hard every time we meet up.
"Hopefully we'll achieve something we haven't for a long time.
"There's still a lot of improving for us to do.
"We'll keep working hard, keep our feet on the ground and won't get too carried away."